Items 1 to 2 of 2 on page 1 of 1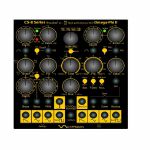 Cat: 630892 Rel: 25 Jan 17
Modular synthesizer in Eurorack format - improved version of the Thru-Zero Oscillator module
Notes: Improved version of the high performance Thru-Zero Oscillator OMEGA-PHI.

What has been improved?

Firstly, the VCO core:
- Parasitic noise effect especially audible at low oscillator frequencies at the Omega-sine/tri outputs exactly when the thru-zero operation begins to start by FM-modulation through a sine modulator is reduced by 15 db and is so no longer audible! BTW: a similar noise at the Phi-sine/tri outputs was not reduced!
- Highly improved oscillator FM-stability;
a) New precision rectifier design leading to terrific in-tune FM synthesis over the full index over a very wide frequency range.
b) New core-symmetry circuit for a perfect balanced triangle wave eliminates tendencies to asymmetric tri/sine shapes even at high FM-modulation frequency/carrier frequency ratios. This leads to no more carrier-sine distortions and no detunes even at high ratios.
c) Improved thermal board design for better frequency stability and linearity at very high frequencies and thus more stable FM results, generally.
- Extended maximum FM index from 44 to now 50.

Secondly, the VCO environment:
- Completely new VCA design for FM and PM providing ultra-low noise and ultra-low control feed-through capability.
- Ultra low constant or transient frequency shifts with varying FM indices in both modes, DC and AC.
- Cleaner sound, especially for PM and also for FM at higher oscillator frequencies, where VCA noises become relevant.
- Smoother VCA-index curve for better control even around zero reduced potentiometer noises for PM Phi (-360- - +360-).

…

Read more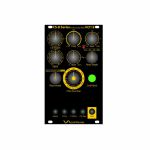 Cat: 673250 Rel: 06 Apr 18
Programmable VCF module
Notes: The CS-8 VCF1E is a very versatile, fully analogue, programmable and voltage-controlled filter (VCF). It is capable of processing all sorts of audio signals. It is designed for mounting into a 3U Eurorack with an internal +/- 12V power supply.

Basically, two modes are possible. The classical filter mode with 12 selectable different functions (low-, high-, band-passes) and the phaser mode also with 12 phaser-sounding combining modes (4x phaser-, 2x low-, 2x high,- 4x band-passes).

For the classic filter mode, 3 different resonance modes are available - these generate different sound impressions for each filter function. So, there is no rule how to sound a certain selected resonance mode. It depends on the selected function.

With a further 4-pos. rotary switch the resonance emphasize is dialable, which provides further sound nuances. This is also equipollent to the amplitude of the self-oscillation. An illuminated tactile switch allows to add a unique 2nd harmonic distortion to the resonance sound.

The frequency range (cutoff) goes from 2 Hz to 40 kHz. A gain controller allows input-to-output gains from -20 db to 0 db. A clip LED light up just before output clipping.

Design and implementation meet highest technical standards concerning usability, sound quality, and signal-to-noise ratio. The front panel is made from powdered and printed piece of aluminium sheet metal of 2 mm gauge. The entire design and production work was done in Germany.
…

Read more
Items 1 to 2 of 2 on page 1 of 1