Items 1 to 2 of 2 on page 1 of 1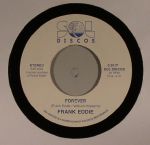 Cat: SOL 1003. Rel: 23 Jan 17
Soul
Forever (4:14)

Love Has Never Passed Me By (3:30)
Review: SOL Discos present their third reissue with these two songs from Frank Eddie. Originally released on the by Eddie himself, most of the original 1000 pressed copies where abandoned back in South Miami, Florida. Influenced by soul and rock, Frank met with drummer and singer William Hopkins. They created a band together, which at the time, would also jam with people that would later become famous such as Steve Morse (Deep Purple), jazz steel-band player Othello Molineaux and Jaco Pastorius to name a few. Frank & William co-wrote the two songs on this record. They gathered the personnel and recorded it in four days. After unsuccessful meetings with major labels and partly discouraged by the music business, Frank decided to self-release the record on his Insync label. He worked on his own to sell it locally but sadly it didn't meet the audience it deserved. According to William, "The black radio stations would not play it because I did not give them cocaine or money, and the disco clubs had their own list to promote". Today, Frank Eddie is still active by playing American Rhythm & Blues and Jazz in Cuba, as well as supporting the Cuban musicians, bringing instruments to the Caribbean Nation.
…

Read more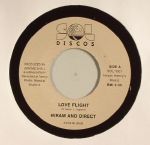 Cat: SOL 1001. Rel: 23 May 16
Soul
Love Flight (3:42)

Turn It Around (4:08)
Review: Brand new sub-label from the Favorite camp, SOL Discos launches with an absolute reissue gem that has previously passed hands for well over a L100. Hiram & Direct's Detroit-recorded, Hirome-released double-A sets up the new label's stall really well as we're treated to frenetic jazz boogie on "Love Flight" which hasn't lost so much as an ounce of dancefloor focus in its 30+ years while "Turn It Around" is a classic torch ballad Faze-O style. One for getting freaky on the floor, one for getting freaky elsewhere. More please.
…

Read more
Items 1 to 2 of 2 on page 1 of 1