Labels
Items 1 to 3 of 3 on page 1 of 1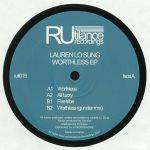 Cat: RUTI 015. Rel: 05 Feb 18
Deep House
Worthless (6:17)

All Fuzzy (6:49)

Five Tribe (6:14)

Worthless (Gunnter remix) (6:32)
Review: Bumping house music from the currently unstoppable Lauren Lo Sung. Hot on the heels of her "Tesor" EP on House Puff comes this superb four-tracker on French label Rutilance. Warm, jacking, restrained and lean, there's a cool classical sense running throughout; "Worthless" is the slinky cut of the set, "All Fuzzy" trips out with low rumbling filter flare while "Five Tribe" hits a big rising boost that seems to whip up out of nowhere. Gunnter wraps up with a fittingly dreamy remix. Priceless.
…

Read more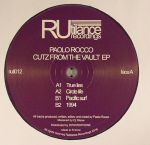 Cat: RUTI 012. Rel: 19 Dec 16
Deep House
True Lies (5:39)

Circle Life (6:04)

Pacific Surf (6:43)

1994 (5:40)
Review: For his third and final release of the year, Italian Canadian Paolo Rocco makes his debut on French imprint Rutilance with four ageless perceptions of rudimental deep house. "True Lies" slinks in the shadows with husky humanised tones in the same way an old Bret Johnson track would. "Circle Life" chugs more like a Phil Weekes track while "Pacific Surf" rolls with wavy pads that fluctuate gently in the way you might hear in a Doc Martin set. Finally we hit "1994" that struts with some great production touches with the drums right at the front and the pads deep in the background in a way that can't help conjure memories of MAW. Sublime.
…

Read more
Cat: RUTI 016. Rel: 14 May 18
Deep House
Montini

Bazzy

Just A Memory

Ruffcut
Items 1 to 3 of 3 on page 1 of 1