Items 1 to 2 of 2 on page 1 of 1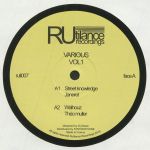 Cat: RUTI 007. Rel: 06 Apr 15
Deep House
Janeret - "Street Knowledge" (6:41)

Theo Muller - "Walhouz" (5:46)

Marotti - "Pressure" (5:19)

Kicks - "Pipeline" (5:48)

Ortella - "Heartbeat" (5:29)

John Jastszebski - "Downtown" (7:25)

DJ Steaw - "Rue D'Hauteville" (deep mix) (6:40)

DJ Steaw - "Walkin'" (5:49)
Review: Operating out of Rennes in France, Rutilance has worked hard to establish itself as a label of note in the deep house field of interest, whilst sticking to a close network of artists such as Sunny Galaxy and Jay Shaw as well as label boss DJ Steaw. This double pack release celebrates what has been achieved in two years of operations with a diverse selection that ranges from the dubby tones of Kicks' "Pipeline" to the even dubbier tones of Ortella's "Heartbeat", and then on to the bassy simmer of John Jastszebski's "Downtown" or the garage bump and calming tones of MArotti's "Pressure". If you're a lover of quality deep house played from the heart then there's more than enough to satisfy your appetite here.
…

Read more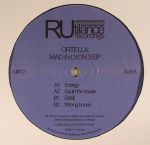 Cat: RUTI 013. Rel: 27 Feb 17
Deep House
Energy (5:41)

Squrit The House (6:55)

Get It (5:49)

Wrong House (6:44)
Review: Fabrizio Ortella loops back to very first notes of his groove-laden career so far as he completes the inaugural "Made In Lyon" series that he launched with on Rutilance. Once again it's a wide-berth, chop-slapping house affair with broad drums palettes and hooky loops: "Energy" is straight out of the Kenny Dope playbook - thundering drums and jazzy chords while the brilliantly titled "Squirt The House" slips into something more Detroitian with its icy dub synths and concrete blasting kicks. "Get It" is a smooth operator, unhurried in its build and persistent with its pads while "Wrong House" closes on a shifty rolling tech note, nodding at the legacy of Plus8 and paying homage to the greatest nation on earth... house nation.
…

Read more
Items 1 to 2 of 2 on page 1 of 1