Labels
Items 1 to 3 of 3 on page 1 of 1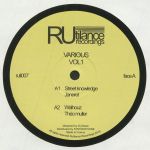 Cat: RUTI 007. Rel: 06 Apr 15
Deep House
Janeret - "Street Knowledge" (6:41)

Theo Muller - "Walhouz" (5:46)

Marotti - "Pressure" (5:19)

Kicks - "Pipeline" (5:48)

Ortella - "Heartbeat" (5:29)

John Jastszebski - "Downtown" (7:25)

DJ Steaw - "Rue D'Hauteville" (deep mix) (6:40)

DJ Steaw - "Walkin'" (5:49)
Review: Operating out of Rennes in France, Rutilance has worked hard to establish itself as a label of note in the deep house field of interest, whilst sticking to a close network of artists such as Sunny Galaxy and Jay Shaw as well as label boss DJ Steaw. This double pack release celebrates what has been achieved in two years of operations with a diverse selection that ranges from the dubby tones of Kicks' "Pipeline" to the even dubbier tones of Ortella's "Heartbeat", and then on to the bassy simmer of John Jastszebski's "Downtown" or the garage bump and calming tones of MArotti's "Pressure". If you're a lover of quality deep house played from the heart then there's more than enough to satisfy your appetite here.
…

Read more
Cat: RUTI 015. Rel: 19 Jan 18
Deep House
Worthless

All Fuzzy

Five Tribe

Worthless (Gunnter remix)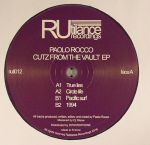 Cat: RUTI 012. Rel: 19 Dec 16
Deep House
True Lies (5:39)

Circle Life (6:04)

Pacific Surf (6:43)

1994 (5:40)
Review: For his third and final release of the year, Italian Canadian Paolo Rocco makes his debut on French imprint Rutilance with four ageless perceptions of rudimental deep house. "True Lies" slinks in the shadows with husky humanised tones in the same way an old Bret Johnson track would. "Circle Life" chugs more like a Phil Weekes track while "Pacific Surf" rolls with wavy pads that fluctuate gently in the way you might hear in a Doc Martin set. Finally we hit "1994" that struts with some great production touches with the drums right at the front and the pads deep in the background in a way that can't help conjure memories of MAW. Sublime.
…

Read more
Items 1 to 3 of 3 on page 1 of 1