Items 1 to 2 of 2 on page 1 of 1
Cat: RSD 006. Rel: 04 Sep 17
Disco/Nu-Disco
Standing Still Is An Illusion (feat Topher Horn, Paul Randolph & Ryan Gimpert) (8:55)

Ayiba I Yeri O (6:36)

Pagode Americano (5:36)
Review: A mesmerising slice of Detroit house meets afro fusion as Blair French continues the theme set by Peter Croce earlier this year. "Standing Still Is An Illusion" is a truly epic A-side as he invites Jazzanova's Paul Randolph, Will Sessions' Ryan Gimpert and Rocksteady Disco's own Topher Horn for a loose-limbed spiritual groove that evolves with vocal and drum-based magic. Deeper into the B we travel for two exceptional African beat experiences where the vibe is raw, soulful and authentic.
…

Read more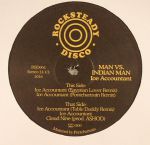 Cat: RSD 004. Rel: 12 Sep 16
Disco/Nu-Disco
Ice Accountant (Egyptian Love remix) (5:47)

Ice Accountant (Pontchartrain remix) (6:05)

Ice Accountant (Table Daddy remix) (7:01)

Ice Accountant (2:33)

Cloud Nine (2:20)
Review: Brand new Detroit duo Man VS Indian Man comprises Ian Finkelstein and Even Haywood. Complementing each other's strengths, the pair make the perfect match as they pour out thick viscously barbed future soul in thick gooey doses; both "Ice Accountant" and "Cloud Nine" are wrapped in foggy layers of sleepy textures as the falsetto vocals and lean instrumentation cut through with dreamy delight. Remixes from the legendary Egyptian Lover (cosmic electro), fellow Detroitian Pontchartain (filtered disco house) and Brazilian Table Daddy (lolloping dream tech).
…

Read more
Items 1 to 2 of 2 on page 1 of 1