Items 1 to 2 of 2 on page 1 of 1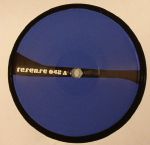 Cat: RESENSE 043. Rel: 26 Mar 18
Soul
How Strong Is Your Booty (2:29)

So Glad (3:04)
Review: Powerful funk fire from Bristol's serial editors Mako & Mr Bristow as they hit number three in their Stank Soul Edits series. Backed by a strong gospel vibe and raw gutsy female vocals across both sides, it's another sure-fire heater: the soaring sentiments of Ann Peebles command the A with an empowering ode to the allure of love's sweet sensation while the B is dedicated to the stirring prowess of Shirley Brown. Both crafted and beat-licked in M&MB's inimitable floor-warming style, and already galvanised on the airwaves by funk professor Craig Charles, it's another stank showdown that cannot be denied.
…

Read more
Cat: RESENSE 044. Rel: 07 Dec 17
Funk
Kitschy Jungle (4:23)

Broken Flute (3:49)
Review: Happy birthday to party-starting, funk-fuelled record label Resense, which put out its first 7" single 10 years ago. To kick off a new decade, they've enlisted the services of regular contributor Andy Taylor. He begins with the percussion-rich bounce of "Kitschy Jungle", where original Afro-funk vocals and instrumentation ride a jaunty tropical rhythm track. It's tastefully done, with Taylor's tasty new beats working well with the dusty, sampled elements. Over on the flipside, he opts for a more straightforward Afro-funk feel, lacing punchy horns and reverb-laden flute lines atop a killer funk break and heavily compressed bassline. File under: "dancefloor fire".
…

Read more
Items 1 to 2 of 2 on page 1 of 1