Items 1 to 2 of 2 on page 1 of 1
Cat: RR 004. Rel: 20 Sep 16
Techno
Hard To Explain

How Far Can You Go

Phosphene

Solar
Review: Presenting the fourth vinyl release, Los Angeles imprint Reinhardt welcomes Romanian sonic explorer Akim# to the fold. Culminating in four tracks crossing genres and themes, pulling from influences and experiences throughout a history crafting his art within the Bucharest electronic music scene.
Taking elements of ambient, electronica and techno, channeled through a dream-state lens. The Phosphene EP is created for the dance floor with a soundscape sensibility, making for an unmapped odyssey.
…

Read more
$8.83
SAVE 30%
in stock
$6.18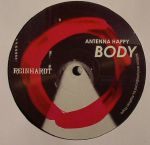 Cat: RR 003. Rel: 14 Sep 15
Minimal/Tech House
Body (6:04)

Day Four (5:59)
Review: Enriching the sonic portal, techno conscript Antenna Happy marks his second release on Reinhardt with two pieces of finely crafted electronic music, in the shape of Body and Day Four.
First to the fold, Body. A dance floor essential, unraveling and built to work the late night hours. Plug into the psychedelic mainframe, and convert to this robust track.
Next up, Day Four takes the reigns. Ghostly pads forged the way before mechanical synths reset the system. Day Four much like its bedfellow Body, holds court in both the worlds of house and techno.
Debuting under his Antenna Happy guise (after a 20 year period absent from releasing music) in September of last year with the esteemed Pinto EP, he has since been commissioned for a vinyl 12" release on Tenth Circle (Defected Records sub-label) and enlisted to remix Alpines, Vessels, Name/age and Ephemerals. Antenna Happy also self-releases a limited edition white label for Record Store Day, and after debuting his new live show in London during February, further club shows and festivals appearances are to follow for this inventive producer.
…

Read more
$6.62
SAVE 40%
in stock
$3.97
Items 1 to 2 of 2 on page 1 of 1