Items 1 to 2 of 2 on page 1 of 1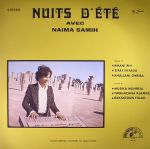 Cat: RMLP 002. Rel: 22 Feb 17
International
Rmani Rih (9:44)

Zifaf Filfada (4:26)

Khallani Ghriba (5:47)

Musika Munreal (4:24)

Twahachna Klamak (9:15)

Raksatoun Fillail (4:37)
Review: First issue of this previously unreleased Oriental psych monster from the 'organ king of Casablanca and second part of Abdou El Omari's Nuits-trilogy combining traditional rhythms with spaced out modern sounds. This album contains heavenly compositions for the Moroccan diva Najma Samih and some moody instrumentals in a similar vein to the first album. A very curious mixture of traditional Middle Eastern Music with lounge, and even rock music style drumming on several tracks. High quality pressing. Artwork and label design by Pieter Heytens.
…

Read more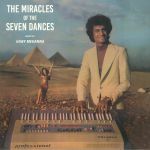 Cat: RMLP 004. Rel: 17 Jan 18
International
Dala' (3:41)

Farha (2:35)

Badaouiah (4:28)

Mouled El-Khaleej (3:29)

Raqsah Arabiyah (3:31)

Tahiya Wal Assaiyah (2:49)

Mouna (3:05)
Review: '70s Arabic psychedelic funk, courtesy of Hany Mehanna on this reissue by Belgian retoverts Radio Martiko. An Egyptian musician and composer, Mehanna played as a young, talented organist next to stars like Oum Kalthoum and Abdel Halim Hafez and was a member of Ahmed Fouad Hassan's Diamond Orchestra - one of the country's finest. Up to this day he still writes for various Arabic artists and composes scores for Egyptian movies and series. This is (according to the label) a 'belly dance holy grail from the organ king of Cairo.. as good as it gets!' Originally released in 1973, 'The Miracles of the Seven Dances' is a work of pure genius that combines traditional rhythms with spaced out modern sounds. Hear a blissfully exotic mix of hypnotic organ grooves, psychedelic guitars, mystic strings and haunting percussion.
…

Read more
Items 1 to 2 of 2 on page 1 of 1