Items 1 to 2 of 2 on page 1 of 1
Cat: PHAN 002.
Disco/Nu-Disco
Naoshima

Naoshima (Perel remix)

10.00 AM

Cauldron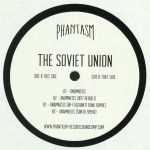 Cat: PHANTASM 001. Rel: 15 Feb 18
Disco/Nu-Disco
Anamnesis (4:56)

Anamnesis (2017 rebuild) (7:36)

Anamnesis (In Flagranti Funk remix) (5:46)

Anamnesis (Sinchi remix) (5:55)
Review: There are plenty of positive signs on this debut release from Phantasm, a brand new label from Amsterdam's Sinchi Collective and Geneva's Night Noise store. The man at the controls is self-confessed "vintage analogue synthesizer addict" Richard Baldwin AKA the Soviet Union. This love of 1980s hardware, in particular, comes through loud and clear on bustling, soundtrack-influenced Italo-disco throb-job "Anamnesis", a track originally recorded in 2010 using a TR-707 drum machine and JX8P synthesizer. Baldwin provides his own darker and notably extended "2017 Rebuild", before Swiss stalwarts In Flagranti transform the track into a cheery chunk of funk-fuelled dub disco/Italo-disco fusion. To complete a rock solid package, label co-owners the Sinchi Collective give the track a darker, moodier and typically Dutch Italo-disco flavour.
…

Read more
Items 1 to 2 of 2 on page 1 of 1