Items 1 to 3 of 3 on page 1 of 1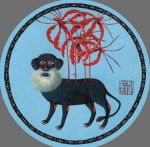 Cat: PAN 003. Rel: 10 Jul 17
Experimental/Electronic
Part 1

Part 7 (with Nick Ossia)

Part 5 (with Nick Ossia)

Part 3
Review: Previously spotted on Udacha and sharing an excellent LP with A.E.M., Dices has already demonstrated a knack for wonderfully delicate ambient compositions and off-kilter 4/4, and the goods just keep on coming via this stunning 12" for Rough House Rosie offshoot Pandora. "Part 1" is a wonderful opening gambit powered by lightly pattering percussion, while "Part 7" enlists the help of Nick Ossia to float off into the swirliest of liquid synth baths. Ossia is also on hand to help with the more abstract sonic shapes of "Part 5", while "Part 3" provides a wonderfully energised, drum-rich ending to a truly standout EP.
…

Read more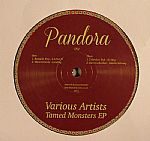 Cat: PAN 001. Rel: 22 Sep 14
Ambient/Drone
Benedikt Frey - "SIFSID"

Shine Grooves - "Landing"

Unbroken Dub - "No Way"

Kurvenschreiber - "Falsche Storung"
Review: Tamed Monsters EP is an inaugural release of the new record label Pandora. New imprint will focus on ambient sounds, music for home-listening and unique artwork. The VA includes works from german producer Benedikt Frey, russian producers Shine Grooves, Unbroken Dub, and an ambient group Kurvenschreiber. Each artist offers a different sound, which lets the music evolve like a story and makes a nice combination of dreamy ambience and mesmerizing repetitive beats.

…

Read more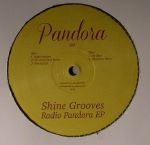 Cat: PAN 002. Rel: 09 Mar 15
Balearic/Downtempo
Radio Pandora (6:40)

The Great Sand Dunes (4:19)

Passing Day (3:19)

Sky Blue (6:22)

Salubrious Waters (5:29)
Review: Russian producer Shine Grooves returns with a solo EP this time on Rough House Rosie's sister label Pandora. The five tracks on 'Radio Pandora' EP will take the listener to a magical journey through the sounds of ambience of sand dunes, healing waters and blue skies. Similar to the first Pandora release, the artowrk for the PAN 002 is provided by Lena Revenko.
…

Read more
Items 1 to 3 of 3 on page 1 of 1