Items 1 to 2 of 2 on page 1 of 1
Cat: OST 4502.
International
Nhu Djon

Volta Pa Terra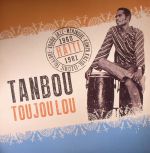 VARIOUS
Cat: OSTPLP 001. Rel: 23 Jun 16
International
Zotobre - "Lagen" (4:17)

Les Gypsies De Petionville - "Francine" (3:21)

Les Loups Noirs - "Bebe Showman" (3:21)

Tabou Combo - "Gislene" (3:05)

Coupe Cloue Et Trio Select - "La Vie Vieux Negre" (3:25)

Rodrigue Milien Et Son Groupe Combite Creole - "Rapadou" (3:59)

Les Loups Noirs - "Pele Rien" (3:29)

Super Jazz De Jeunes - "Erzulie Oh!" (5:29)

Nemours Jean Baptiste - "Haiti Cumbia" (2:12)

Ensemble Etoile Du Soir - "Prend Courage" (2:56)

Super Jazz De Jeunes - "Lonin" (3:11)

Ensemble Etoile Du Soir - "Tripotage" (2:55)

Chanel 10 - "Lola" (5:05)

Super Choucoune 70 - "Madeleine" (8:04)

Les Pachas Du Canape Vert - "Samba Pachas No 2" (5:39)

Ibo Combo - "Souffrance" (5:44)

Les Shleu Shleu - "Diable Le" (5:15)

Shupa Shupa - "Shupa Shupa" (3:48)

Orchestre De La Radio National D'Haiti - "Meci Bon Dieu" (4:50)
Review: New York City label Ostinato Records make their impressive debut with this compilation of Haitian Jazz and Electric Folklore spanning two decades from the sixties onwards. Allegedly compiled from an array of private collections and radio archives in Brooklyn and several digging trips throughout Haiti, this 20-track selection offers an intriguing overview of the country's musical diversity in this period. Musical innovation is matched by percussive potency as Ostinato tell the story of a "vibrant laboratory of colliding influences" in the best way possible; with some truly delightful music! You can totally see "Pele Rein" by Les Loups Noirs getting played by Floating Points down Brilliant Corners. They also include a 20 page liner note booklet with vintage photographs mined across Haiti and its vast diaspora, an essay by a scholar of traditional Haitian Vodou rhythms at the School of Arts in Port au Prince, a history of the Haitian sound, and interviews with key figures of the forgotten scene.
…

Read more
Items 1 to 2 of 2 on page 1 of 1