Items 1 to 3 of 3 on page 1 of 1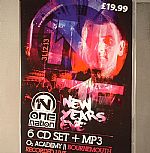 Cat: 1 NBOMONYE. Rel: 27 Jan 14
Drum And Bass
Hazard - "Track 1"

Track 2

Track 3

Track 4

Track 5

Track 6

Track 7

Track 8

Track 9

Track 10

Track 11

Track 12

Harry Shotta Show - "Track 13"

Track 14

Track 15

Track 16

Track 17

Track 18

Track 19

Track 20

Track 21

Track 22

Track 23

Track 24

Crissy Criss & SDC - "Track 25"

Track 26

Track 27

Track 28

Track 29

Track 30

Track 31

Track 32

Track 33

Track 34

Track 35

Track 36

Track 37

Track 38

Track 39

Track 40

Pasco - "Track 41"

Track 42

Track 43

Track 44

Track 45

Track 46

Track 47

Track 48

Track 49

Track 50

Track 51

Track 52

Majistrate & Logan D - "Track 53"

Track 54

Track 55

Track 56

Track 57

Track 58

Track 59

Track 60

Track 61

Track 62

Track 63

Sub Zero & Tyke - "Track 64"

Track 65

Track 66

Track 67

Track 68

Track 69

Track 70

Track 71

Track 72

Track 73

Track 74

Track 75

Track 76

Track 77

Track 78

Track 79

One Nation: New Years Eve 2013 Recorded Live In O2 Academy Bournemouth (DVD)
$24.58
SAVE 80%
in stock
$4.92
Cat: 668104 Rel: 04 Dec 17
How to get the best from your vinyl records & kit - 180 page hardback book featuring 400 colour illustrations
Notes: The Vinyl Manual is the 21st century companion for anyone who is bringing their vinyl music collection back to life or discovering the joys of vinyl for the first time. With chapters on turntables and audio kit, it is a step-by-step guide to getting the most from your vinyl collection and understanding the technology behind it. We explain how vinyl delivers the unique sound so loved by audio enthusiasts and its evolution over 100 years, from the 78s of the late 19th century to today's advanced electronic formats.

As well as expert insight into setting up your system correctly and guides to choosing the right hardware for your music, the Haynes experts take you behind the scenes of the vinyl industry, including the super-clubs of the 1970s, 1980s and 1990s. We tell you the best way to build and curate your collection, from dance to rock to classical, and provide tips from the world's most respected professionals. Whether you are collecting, recording or just playing, the Vinyl Manual is the essential companion for any vinyl enthusiast.

…

Read more
$27.61
SAVE 10%
6 in stock
$24.85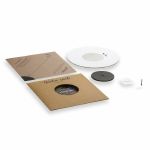 Cat: 680326 Rel: 28 Mar 18
Single display unit for mounting vinyl record artwork
Notes: The Twelve Inch Original is hands down the easiest product on the market for displaying vinyl records as artwork on your wall. Using minimalistic, yet charming Danish Design techniques, Twelve Inch allows the record to be the focus of the attention in any room - without any frames or visible brackets.

Easy to install:

The display system can be mounted to the wall in a matter of seconds. The screw is included in the package.

Simple to use:

Twelve Inch is super flexible and easy to use. Because of the unique design, you can to quickly change the record on display. Just insert the white disc into the record you want to display, and place it up against the black disc.
…

Read more
Items 1 to 3 of 3 on page 1 of 1