Items 1 to 2 of 2 on page 1 of 1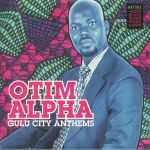 Cat: NNT 003. Rel: 16 Jan 18
International
Gang Ber Ki Dako (6:31)

Anyomo Laber (Paliyec) (6:08)

Bilaber Cwerocwinya (6:00)

Lok Lobo Cwero Cwinya (6:02)

Too Wiye Ming-Alphazo (6:30)

Toni G (6:38)

Wilobo Lanyi (6:05)

Coo Oromo (5:04)

Cam Ki Lawoti II (5:54)

Agiki Ne Tye (4:58)

Kodi Pa Barikiya (Kwan) (6:32)
Review: Otim Alphia is no newcomer, having begun releasing pioneering "electro acholi" records - updates of Ugandan Acholi "Larakaraka" wedding songs created using computer software and electronic instruments - alongside producer Leo Palayeng way back in 2001. This fine double vinyl collection marks the first time any of his material has been released internationally. It draws on 11 years of dancefloor hits and is every bit as vibrant, fast-paced and colourful as you'd expect. Muscially, the drum machine style rhythms are upbeat and bouncy, the synth sounds are bold and ear catching, the use of traditional instruments subtle, and Alpha's vocals never less than passionate and full-throttle. It reminded us of a Ugandan take on the thrilling "Shangaan Shake" sound, which is no bad thing.
…

Read more
VARIOUS
Cat: NNT 005. Rel: 09 Jan 18
International
Bwax - "Baba Animata Natafuta Kiki" (feat S Kide) (4:07)

Dogo Suma Lupozi - "Kazi Ya Mungu Haina Makosa26" (3:40)

Dogo Niga - "Polisi" (7:11)

Dogo Mudiy - "Ndugulawama" (7:27)

Mzee Wa Bwax - "Mshamba Wa Kideo" (3:23)

Dogo Niga - "Kimbau Mbau" (6:31)

Ganzi Mdudu - "Chafu Pozi" (4:49)

Dogo Niga - "Nikwite Nan" (3:55)

Mzee Wa Bwax - "Mshamba Video Mster" (5:53)

Makaveli - "Nammiliki" (5:07)

Maeke, Pasopa & Mako - "Roho Inauma" (3:41)

Csso - "Shobo" (6:23)

Dogo Niga Aka Bobani - "Tenanatena Rmx Cisso" (5:10)

Suma - "TMK" (6:04)
Review: 2018 promises to be the year of outer national. That is, of electronic dance music going back to the roots of tribalism, after years of sub-genres and offshoots. To us, this couldn't have come at a better time, and it's labels like Uganda's Nyege Nyege Tapes that are making it a tea deal. This is the Sound Of Sisso, or better, a new sound called Singeli that's coming out of working class Tanzania. Dar Es Salaam is the capital, and this compilation of fast-moving, interlocking loops comes from its streets. The artists, like the music, are homegrown talents, and are shaping what will be the next big wave of African music. Take a listen for yourselves; its addictive rhythms and seductive vocals will lift you off your feet in no time. Highly recommended.
…

Read more
Items 1 to 2 of 2 on page 1 of 1