Items 1 to 2 of 2 on page 1 of 1
Cat: NNR 009.
International
Bulawayo Kwela - "Mysterious Africa" (Danalogue dub)

Bulawayo Kwela - "Nomalanga"

David Tapfuma - "Magamba" (original)

David Tapfuma - "Magamba" (Esa Zimtronic Direct mix)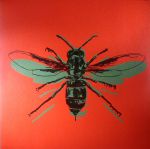 Cat: NNR 007. Rel: 27 Jun 17
International
Mayarira (8:28)

Mweya We Chikoni (8:33)

Zvichapera (6:17)

Mukuru (7:14)

Mugariro (7:42)

Nyama Iekougotcha (6:57)
Review: There's been a fair amount of hype around this unlikely collaboration between Zimbabwean mbira maestro Jacob Mafuleni and French electrofunk producer Gary Gritness. In truth, the hype is deserved. Offering a thoroughly fresh tale on traditional shona music, the album effortlessly blends percussion and vocals from Mafuleni and wife Martha Thorn with the vibrant synthesizers and on-point drum machine programming of Gritness. It's a formula that arguably shouldn't work, but in reality results in a string of memorable moments. For proof, check the near D&B tempo brilliance of "Mukuru", the intricate melodies, slipped beats and raw analogue bass of closer "Nyama Lekougoctha" and the sublime shona-electro fusion of opener "Mayariria".
…

Read more
Items 1 to 2 of 2 on page 1 of 1