Items 1 to 1 of 1 on page 1 of 1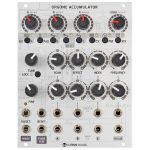 Cat: 643456 Rel: 18 Apr 17
Wavetable, modulation & effects oscillator module
Notes: The ever so popular DIY kit is now available fully assembled with a beautiful panel and professional construction. The Neutron Orgone Accumulator is an unusual digital oscillator built on a freescale MK20 32 bit ARM Cortex M4 processor. With 3 dynamically crossfadeable waveforms, detune control, filter like harmonic content control, a drum mode, and so many CV options, it can create sounds ranging from soft and subtle to outrageous and intense. The Orgone Accumulator is a great addition for those looking to add versatility and variety to their Eurorack systems.

The Orgone Accumulator simultaneously produces three waveforms, Wave A, B and C between which the SCAN parameter dynamically blends. The red controls in the top left corner select the waveforms for A, B and C from a plethora of waves, from sine to complex material.

TUNE sets the oscillator's pitch in semitones, FINE is responsible for the fine tuning. When TUNE LOCK is activated unintentional changing of the tuning can be prevented.
DETUNE can be activated per wave and derives from a number of waves which are detuned against each other. This widens the sound a lot, can produce rave-ish sounds and even generate chords. A hate at the RESET input will reset the detuned VCOs, creating a pulsating-percussive sound.

Amplitude and Frequencies Modulation (AM and FM): INDEX sets the modulation intensity, MOD WAVE the waveform of the modulator. The FIX button quantises in FM mode the frequency ratio between carrier and modulator to semitones.

Also integrated are eight effects which are activated with FX SELECT. The EFFECT parameter simultaneously determines modulation intensity and choses one of two variations (bipolar control, one variation to the left, one to the right).

- Detune: the original Orgone's five oscillators, detuned
- Twin: two oscillators with CV phase offset and anti-cancellation. left = down, right = up
- Dist 1: left = bit-crush with smoothing the crush-bit number, right = wave folder
- Dist 2: left = XOR effects, right = a self-modulation which bends waves by itself
- Chord: generates chords. left = minor, right = major
- Spectral: instead waves each value is a organ-like arrangement of harmonics. Set global waveform with MOD WAVE.
- Delay: MOD FREQ sets delay time, MOD wave the modulation frequency. EFFECT left = negative feedback, right = positive feedback.
- Drum: a complex drum voice with cross-modulated noise. Almost every control has a new function.
…

Read more
Items 1 to 1 of 1 on page 1 of 1