Items 1 to 3 of 3 on page 1 of 1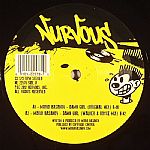 Cat: 22578. Rel: 24 Sep 12
Disco/Nu-Disco
Damn Girl (original mix)

Damn Girl (Walker & Royce mix)

Skywalker (original mix)

Skywalker (Beckwith remix)
Cat: 091012077326. Rel: 07 Jul 08
Funky/Club House
Ercola - "Every World" (feat Daniella - Wendel Kos club mix)

Adam K - "Soha - Long Distance"

The Cube Guys - "Baba O'Riley"

Alex Santer - "Utica"

Antoine Clamaran - "Get Down"

Tomcraft - "Boogie Nights (Like An Eagle)"

Ralph Falcon - "Break U" (feat The Weather Girls - Richie Santana & Peter Bailey Mindcontrol mix)

Lutzenkirchen - "Paperboy" (D-Nox & Beckers remix)

Peter Bailey & Carlos - "Bring It On"

Deka - "Enter Your Soul"

Erich Ensastigue - "Lick My Body" (Alex Ocampo louder remix)

Inaya Day - "Say You Will" (Mischa Daniels Super String mix)

Mark Brown - "The Journey Continues" (feat Sarah - Micky Slim S Sleeves Off remix)

Oscar G - "Pimp"
Cat: 22576. Rel: 10 Sep 12
Funky/Club House
Die 4 U (Murk main mix)

Die 4 U (Murkstrumental)

Die 4 U (Murkapella)
Review: After a break of some three years, Murk have reemerged with a new single coming out with the help of Nervous Records. It centres around the main mix of "Die 4 U", a steadfast vocal deep house cut with an instrumental and an accapella on the flip, capturing a strange place between anthemic singalong choruses and moody introspection. The beat crackles and fizzes with techno trickery while the bassline cuts through simply and perfectly, leaving some stark, clean synth stabs to create the emotional content. The vocal will likely divide opinion, but on this twelve you've got the best of both worlds anyway.
…

Read more
Items 1 to 3 of 3 on page 1 of 1