Items 1 to 3 of 3 on page 1 of 1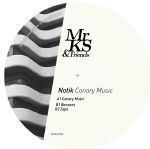 Cat: MRKSF 003 . Rel: 13 Mar 17
Deep House
Canary Music (7:18)

Benzons (6:50)

Zape (6:30)
Review: Following releases from Senzala and Taymor Zadeh, Mr KS fires up his Gran Canarian label once more for some heady underground grooves, this time with Notik at the helm. "Canary Music" takes the lead on the A-side with a percussion-focused production that samples The Usual Suspects to great effect while keeping things minimal and functional. "Benzons" is equally restrained in its execution, with the subtlest of synth touches hovering between the drums, making this a perfect DJ tool for strung out extended DJ sets. "Zape" meanwhile works a little more melody into the mix for an immersive end to the record, maintaining the stripped down house groove amidst the pad tones.
…

Read more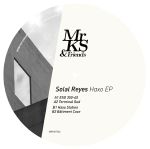 Cat: MRKSF 004. Rel: 10 Jul 17
Minimal/Tech House
ESO 350-40

Terminal Sud

Haxo Station

Batiment Cour
Review: Solal Reyes is another talented French producer to add to the list of house heads to watch in 2017. Joining up with the equally promising Mr KS, Reyes presents a debut EP that will only be available to those willing to buy the wax, and hot damn is it worth it. Lead track "ESO 350-40" is a loose and limber funker of a house jam with all kinds of playful, but utterly cool elements at play. The same could be said of "Terminal Sud" where the rubbery bass and snappy shuffle will get bodies popping from the front to the back of the room. "Haxo Station" has a slightly edgier lilt to its bounce, and then "Batiment Cour" drops the swing for a straight up strut through razor sharp tech house on what is a stunning first release for Reyes.
…

Read more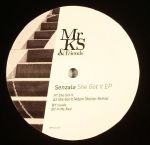 Cat: MRKSF 001. Rel: 12 Dec 16
Deep House
She Got It (6:47)

She Got It (Adam Shelton remix) (8:22)

In My Bed (7:20)

Inside (6:56)
Review: REPRESS ALERT: The first release is from duo Senzala coming from London. 3 killer tracks for each moment of the night coming with a remix from One Records boss Adam Shelton.Vinyl Only! No digital! No Promo!
…

Read more
Items 1 to 3 of 3 on page 1 of 1