Items 1 to 2 of 2 on page 1 of 1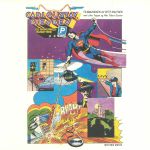 Cat: MM 03. Rel: 10 Apr 18
Soundtracks
Apning (1:58)

Maskinene Kommer (2:31)

Drommen Om Supermann (2:08)

Venner, Lop (2:42)

Carl Gustav's Tema (0:45)

Lekeplassen Odelegges (0:37)

Menn I Svarte Dresser (0:38)

Spenningen Stiger (0:35)

En Losning (0:35)

Jam Over Tema (2:32)

Kvernen (3:01)

Arkadehallen (0:51)

Slottet (0:27)

Hemmeling Inngang (0:48)

Mork Gang (0:24)

Tatt Til Fange (0:33)

En Utvei (0:08)

Falsk Vals (2:29)

Bil Etter Bil, Slutt (3:52)
Review: You'd be forgiven for being unfamiliar with Carl Gustav Gjengen Og Parkeringsbandittene, a 1982 Norwegian children's mystery film with an eccentric, convoluted plotline. This is the first time that the soundtrack, which was created by former Norwegian progressive rocker turned composer Pete Knutsen, has been released. It's an imaginative and largely colourful affair, with Knutsen utilizing spacey synthesizer sounds and bold melodic riffs (very reminiscent of the period in which it was created) alongside his usual fuzzy rock guitars and out-there electronics. It's hugely evocative and entertaining, with nods to a myriad of contemporaneous American and European styles as well as the Beatles circa The White Album and Abbey Road.
…

Read more
Cat: MM 02. Rel: 10 Apr 18
Soundtracks
Apningstema (1:58)

Commando (1:47)

Guttene Pa Sletta (1:08)

Ingen Summerone (0:34)

Arim Signaliserer (0:26)

Gisler (0:39)

Terrorister (0:38)

Hjemme Fra Skolen (1:10)

Rock Pa Rommet (1:33)

Dragejakten (5:07)

Gardsplassen (2:42)

Morse (1:27)

Finlandshette (0:30)

Sykler I Snoen (0:41)

Tomgods (1:39)

Fornebu (0:27)

Purken Kommer (0:35)

Tema Fra Operasjon Cobra (1:47)
Review: The Moving Music label continues to unearth some ridiculously odd and inspired Norwegian movie soundtracks. Their latest is taken from 1978's Operasjon Cobra, a "youth movie" with a plot that involves a group of Oslo teenagers foiling a terror plot. The soundtrack, which appears to be one of the first to be completed by obscure Norwegian composer (and former prog rocker) Pete Knutsen, flits between Blaxploitation-inspired jazz-funk, cheery, horn-and-Clavinet-heavy post-disco instrumentals, experimental jazz, creepy synthesizer soundscapes, jazz guitar-rich ambient and heavy funk-rock. Throughout, the production is admirably lo-fi, with Knutsen keeping the tracks largely free of effects or post-production trickery.
…

Read more
Items 1 to 2 of 2 on page 1 of 1