Items 1 to 3 of 3 on page 1 of 1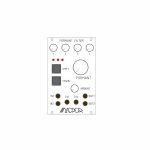 Cat: 677571 Rel: 28 Feb 18
16HP Eurorack incarnation of the filter section from Modor's NF-1 digital polyphonic synthesizer
Notes: Modor's Formant Filter is a special filter that does a kind of 'vowel morphing' between three vowels. The big central FORMANT control is responsible for that, and on the Eurorack module there's of course a CV control (with attenuation) on this parameter.

You can imagine a formant filter as a set of parallel bandpass filters, picking up and amplifying a set of small frequency bands. For example, with these frequency bands around 750Hz, 1200Hz and 2800Hz, you get the sound of an 'A'. So far, nothing special. There are more formant filters around composed of a set of parallel bandpass filters.

It gets more interesting when you're able to 'morph' between different sets of those formant frequencies. Behind the central FORMANT control, there are 3 of those sets of frequencies. One at full left, one in the middle, and one fully right. So you can for example morph between A-E-O. Or U-I-E. Or AO-UI-EU. Or ...

That's what it does: morphing between different sets of formant frequencies, and that's why it sounds a lot more genuine vowel-ish than many other static bandpass combinators.

There are 10 preset vowels, that can be selected with the VOWEL button: A-E-O-I-OE-U-EI-EU-AO-U-UI. The vowels of the Dutch language... :-)

The 1-2-3-4 controls on top give you the possibility of composing your own vowels by manually adjusting the frequency bands.
…

Read more
Cat: 603434 Rel: 06 Apr 16
Rackmountable 8 voice polyphonic digital desktop synthesizer with 448 patch memory (14 banks of 32 patches)
Notes: The Modor NF-1 synth is a digital DSP synth very comparable to the classic Virtual Analog synths, but Modor is moving further on from this point. We use the classic structure of VA-synths, with oscillators, filters and effects, with parameters that can be modulated using LFO's and envelopes. But every element has been rethought and reinvented. In a digital way.

The NF-1 has a classic 12dB/oct resonant filter, but we are also giving it a versatile formant filter, never seen in hardware before! It does make classic sawtooth waves, but we're also including a lot of other brand new modulatable noisy waveforms! It has a classic delay effect, but we make every parameter editable to give way to special unexpected effect types! And so on...

Oscillator section:
- 3 identical fully independent oscillators
- 10 waveforms:
- SAW: pulse width modulation sawtooth wave
- SQU: pulse width modulation pulse wave
- TRI: pulse width modulation triangle wave
- SYNC: sounding like a oscillator-synced wave
- ADD: additive harmonics
- SONAR: resonant bandpass filtered noise
- WIND: wind instrument noise
- ARC: arcade game style noise
- FM: sinus FM pair
- FBFM: feedback sinus FM pair

Filter section:
- 12dB/oct resonant filter switchable as lowpass, hipass, bandpass or bandstop (notch)
- Formant filter with 3 morphing vowels, 10 vowel presets and user controllable formant frequencies

Effects section:
- 'Comb filter' effect section to create chorus, flanger, ... effects
- Delay effect section to create echo effects
- All parameters can be set independently and are modulatable

Modulation section:
- 4 3-stage envelopes, 3 level settings and 4 time settings
- 2 switchable LFO's with TRI/SAW/SQU/SIN waveforms, 1 TRI-LFO connected to modwheel, 1 random S&H with lowpass option
- Modulation matrix with 7 user-defineable modulation wires,
- 16 source signals, 59 destination signals

UK Power adapter, wooden end panels & rack ears included

*For audio demos, please visit - https://soundcloud.com/modor-music

***NOW FEATURING THE FOLLOWING HARDWARE IMPROVEMENTS:

- Use of less 'wobbly', more stable feeling potentiometers
- Improved DAC gives a 12dB lower noise-floor
- Improved EMC-design (CE and FCC approval should follow soon)
- Line out is now capable of driving a headphone (Left line output doubles as stereo headphone out)
- MIDI USB connector has been added
…

Read more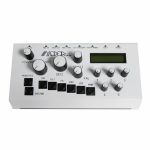 Cat: 648919 Rel: 31 May 17
Polyphonic digital desktop synthesizer - smaller version of the original Modor NF1
Notes: The original Modor NF-1 has one main disadvantage: it's quite big and heavy. Not your favourite piece of hand luggage to carry around. So, here is the smaller, portable version. And of course, a smaller device means a smaller price...!

This comes of course with a smaller number of front panel controls... The Modor NF-1m has 7 context dependant controls grouped in 15 edit pages with a set of 6 pushbuttons to access these pages quickly. Every parameter is just a button press away!

Not unimportant, the NF-1m has new rotary controls with a more stable feeling than the controls on the original NF-1.

Next to that, there are 2 large 'definable controls', DEF1 and DEF2. These controls can be assigned to any sound parameter so that you can 'preselect' two parameters in every patch to have a permanent dedicated control on the front panel. This makes it easy to access your favourite parameters, no matter in which edit page you are...
…

Read more
Items 1 to 3 of 3 on page 1 of 1