Items 1 to 3 of 3 on page 1 of 1
Cat: MISTRESS 009. Rel: 06 Feb 17
Deep House
Shadows Groove (5:32)

You Dub (6:20)

TY84 (5:36)

Control (4:52)
Review: The latest no-nonsense EP on Mistress Recordings comes from rising star Look Like. Over the four tracks, the Drumpoet Community regular quietly joins the dots between analogue deep house, dusty electronic grooves, and the futurist ethos of classic Detroit techno. Opener "Shadow Groove" doffs a sizable cap to late '80s Larry Heard productions, while "You Dub" combines dreamy chord progressions, acid style electronics and crunchy drum machine hits. On the flip you'll find the ultra-deep shuffle, poignant synth-strings and curious vocal samples of "TY84" and the spacey, bleep-inspired techno hustle of EP standout "Control".
…

Read more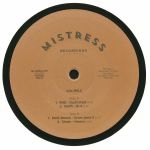 Cat: MISTRESS 096 2. Rel: 16 Apr 18
Techno
ROD - "Duchi Kaal" (4:49)

Steffi - "IE-4" (5:45)

Mark Broom - "Drum Jamz 2" (5:35)

Strain - "Theory" (6:09)
Review: Following up from an impressive first edition, DVS1's imprint Mistress is devoted to secret weapons of the house and techno variety - plus all sounds in between. Much like the previous edition, it has its sights set on surefire techno tools for the main room. Rotterdam's Benny Rodrigues impresses as always, but with something different than what we're used to on the stripped back dub techno aesthetic of "Duchi Kaal". Fellow Berghain/Panorama Bar resident Steffi hands in a stellar effort on the loopy, trance inducing sorcery of "IE-4" and the legendary Mark Broom (of Pure Plastic and Rue East fame) has got the right credentials to do old-school - and he sure ticks all the right boxes on the classic Chi-town jack of "Drum Jamz 2".
…

Read more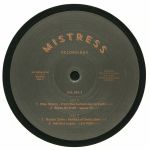 Cat: MISTRESS 096 3. Rel: 16 Apr 18
Techno
Mike Storm - "From The Human Eye To Earth" (4:54)

Steve Bicknell - "Space 13" (4:17)

Dustin Zahn - "Politics Of Seduction" (5:50)

Adriana Lopez - "Last Path" (5:44)
Review: Predictably, DVS1 has grabbed tracks from some serious techno talents for this third volume in Mistress's Special Release series. As a result, the vibe is loopy, pumping and energy-packed throughout, with standouts coming from Adriana Lopez (whose "Last Path" sounds like Surgeon making creepy EBM) and UK veteran Steve Bicknell, who brilliantly ladens a stomping beat with creepy electronics and all manner of psychedelic bleeps ("Space 13"). Elsewhere, Mike Storm brilliantly builds dancefloor intensity via relentless drum machine handclaps on "From The Human Eye To Earth", while Dustin Zahn delivers a decidedly distorted fusion of lo-fi techno and spacey Detroit futurism.
…

Read more
Items 1 to 3 of 3 on page 1 of 1