Items 1 to 3 of 3 on page 1 of 1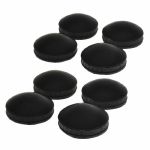 Cat: 608325 Rel: 14 Apr 16
Vibration absorbing support pads for use with audio/video/computer equipment up to 10KG
Notes: Polipods are precisely replicated energy absorbing pads. They improve the detail/stereo imaging of sensitive audio equipment. They work by absorbing vibrations in the component chassis, or from the shelf or rack. Loosely grouped molecules within the material rub together and transfer the vibration into heat. The tacky surface eagerly bonds to metal chassis and wooden shelves, further improving vibration.

Polipods are high performance vibration absorbing supports designed to be placed under CD Players, Turntables, Amplifiers, Loudspeakers and all other Audio, Video & Computer equipment.

Designed using computer modelling techniques the spherical surface provides even contact and uniform energy distribution.

Simply place a pad under each corner of the selected equipment. For the most effective result a set is required for each unit.
…

Read more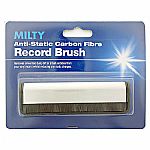 Cat: 299760 Rel: 04 Feb 08
Brush removes unwanted dust, dirt or small particles from your vinyl records and reduces static charges
Notes: Keep your vinyl clean and dust free with this super carbon fibre and velvet disc cleaning pad from Milty. Simply rotate the record on the turntable and gently apply the carbon fibre brush for 2 to 3 revolutions, then press the pad down so it comes into contact with the surface area of the record, picking up the debris as it goes. Cleans easily, and will keep your record collection maintained to the highest standard.
…

Read more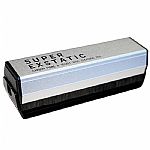 Cat: 299787 Rel: 04 Feb 08
Notes: The Milty Pro Super Exstatic disc cleaner is a highly effective solution to grime and dust inside the record groove. The carbon fibre filaments and a soft velvet cleaning pad remove the unwanted materials at a stroke leaving the groove clean, prolonging the life of both discs and stylus.

…

Read more
Items 1 to 3 of 3 on page 1 of 1