Madhouse
Items 1 to 3 of 3 on page 1 of 1
Cat: KTC 1002. Rel: 27 Mar 17
Deep House
Get Up (5:34)

Insomnia Again (4:36)

Something Wrong (5:50)

Love Is Over (4:58)
Review: When Kerri Chandler wrote the tracks that make up the Panic E.P way back in 1992, he was little more than an up-and-coming producer from East Orange, New Jersey. Much has changed in the quarter of a century since, but Panic remains one of the now legendary house producer's finest 12" singles. Check, for example, the snaking sax samples, thumping kick-drums and fluttering vocal samples of late night classic "Get Up", the bouncy New Jersey drums and undulating synth-bass of "Something Wrong" and the basement-bothering, disco-sampling wooziness of "Love Is Over". These are raw, stripped back house tracks from the top drawer that don't seem to have aged since the moment they first appeared in stores.
…

Read more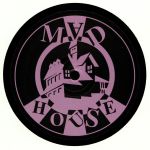 Cat: KCT 1172. Rel: 19 Mar 18
Deep House
Come To Me (6:24)

Come To Me (Folamour Lost In Eden remix) (6:39)

Take (5:14)

Feel Me (feat Ladybird) (5:26)
Review: Fresh from the recent release of his killer Vinum 12" on Let's Play House, Salzburg sort Bernard Weiss brings his Demuja project to Madhouse for the very first time. The EP is headed up by "Come To Me", a rubbery chunk of classic deep house rich in saucer-eyed vocal samples, lilting Rhodes chords, bustling stabs and crunchy machine drums. Folamour's accompanying remix naturally pushes the track further towards warm and woozy deep house territory - via the box marked "glassy-eyed late night positivity" - before Demuja unfurls two fantastic bonus cuts. Of the pair, it's "Take", a tribute to early New Jersey deep house rich in buzzing synth-sax and memorable chord progressions, that arguably hits home hardest.
…

Read more
Cat: KCT 1174. Rel: 23 Apr 18
Deep House
The Zauberflote (7:00)

The Zauberflote (Black Loops remix) (6:46)

Focus (6:19)

Focus (Kevin Over remix) (6:00)
Items 1 to 3 of 3 on page 1 of 1