Items 1 to 3 of 3 on page 1 of 1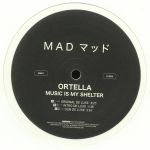 Cat: MAD 1T. Rel: 02 Oct 17
Deep House
Music Is My Shelter (original De Luxe) (6:22)

Music Is My Shelter (intro De Luxe) (4:29)

Music Is My Shelter (dub De Luxe) (5:54)
Review: The Kerri Chandler tributes still continue, courtesy of French imprint Mad Recordings here. Their main man Fabrizio Ortella returns with his fourth release on the imprint and he's certainly got some pumpin' throwback sounds going on. Like the name may not so subtly suggest: he's taking you to the sweaty basements of NYC circa '93. If tough and swingin' Jersey house is your thing you'll be all over this one kids! "Music Is My Shelter" (original De Luxe) is what it's all about here and there's a bunch of other versions to suit whatever the occasion. "Intro De Luxe" does exactly what it says on the tin: working those euphoric (classic!) house organs and DX pianos over two minutes until he drops the power. Then of course is the mandatory dub version that strips things back and lets those skippy rhythms and that chunky bassline do most of the talking.The Lyonnaise monsieur has also presented in recent times for local imprints Imported, Art Feast and Paris based Rutilance.
…

Read more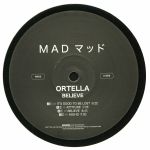 Cat: MAD 3T. Rel: 03 Apr 18
Minimal/Tech House
It's Good To Be Lost (6:08)

Attitude (7:29)

Believe (6:42)

Ass-ID (7:07)
Review: French producer Ortella is a staple of the Lyon based Mad Records and is also known for releasing on Rennes based imprint Rutilance. There's more dusty and reduced deep house here on the Believe EP. The A side features two sexy and swinging cuts such as "It's Good To Be Lost" (with its bouncy Juno bassline) and the rather Derrick Carter styled boompty business of "Attitude". On the flip, the funky disco loops of the title track are a bit of an afterthought when compared to the next track "Ass-ID" - undeniably the EP's highlight. This euphoric 303 acid journey jacks good and proper and will take you back to the days at The Warehouse circa '86 - when the likes of DJ Pierre and Adonis reigned supreme.
…

Read more
Cat: MAD 4. Rel: 01 May 18
Deep House
Stream Down (7:27)

Reticence (6:56)

Recapitulation (6:09)

An Inflection (7:23)
Items 1 to 3 of 3 on page 1 of 1