Labels
Items 1 to 3 of 3 on page 1 of 1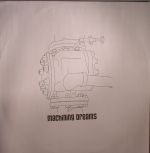 Cat: MDREAMS 015. Rel: 06 Apr 15
Techno
Soma15 (6:13)

Dancing Reflections (5:48)

Mscience (6:09)

Dueling Korgs5 (6:48)
Review: It was about time that Hakim Murphy and Ike Release aka Innerspace Halflife teamed up for another one of their sci-fi-schooled house escapades on Machining Dreams. The last three years have been rather productive for the pair and with releases on everything from Skudge to MOS and even an album on Syncrophone, they are on a tight roll. As expected, these latest four cuts are a little slice of a wormhole, where melodies are twisted and knotted into squelching bundles of blade running funk. Analogue drum machine beats, polyphonic melodies and hardly any digital processing make for another sublime foray into deep outer space. We love these guys...
…

Read more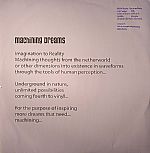 Cat: MDREAMS 013. Rel: 21 Jul 14
Experimental/Electronic
Sat Feedback

Beats Of Tempura

Wobble

Subsonic Cools

Ally

Melody Of

Irregular Rhythm Transmission
Review: A Chicago native, Hakim Murphy has been impressing with his singular brand of cosmo-techno over the last few years. Everything that he's put out has a distinctive and personalised feel to it. From the grainy percussion shots to the tangled synth loops, it really does give you the idea of outer space. He's back on Machining Dreams with this super-limited mini LP which delivers some of his deepest material yet, including some beatless stunners such as "Subsonic Cools". Our standout piece has to be "Wobble", however, in which Murphy really showcases his ethereal style and talent for long, twisted excursions into the moodiest of constellations. Top!
…

Read more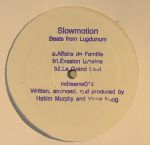 Cat: MDREAMS 016. Rel: 15 Jun 15
Experimental/Electronic
Affaire De Familie (7:25)

Evasion Urbaine (6:08)

Le Grand Saut (6:17)
Review: Chicago's Hakim Murphy teams up with Lyon's Vince Noog as Slowmotion for the latest episode of the excellent Machining Dreams series - Murphy's own personal outlet. Lead track "Affaire De Familie" wonks and bleeps its way across metallic percussion shots and grizzly low-ends, while "Evasion Urbaine" is more melodic and heavy on the sci-fi pads. Finale "Le Grand Saut" ties things off with a squelchy feel, taking the duo's industrial beats into deep space. Fine hardware jams for the early hours as per usual from Machining Dreams.
…

Read more
Items 1 to 3 of 3 on page 1 of 1