Items 1 to 2 of 2 on page 1 of 1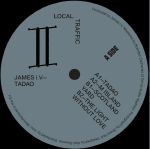 Tadao
(180 gram vinyl 12")
Cat: LT 002. Rel: 26 Jun 17
Deep House
Scotland Yard

Tadao

M Island

The Light Without Love
Review: Burgeoning Melbourne-based label Local Traffic returns with its second release, calling on the talents of lesser-known producer James IV. While this may be the chap's first time stepping out, his sound is already highly developed. Massive dub techno chords collide with fractured rhythms and exotic vocal intonations on the excellent "Scotland Yard", while "Tadao" leans on hand-drummed percussion and stripped down deep house of a truly refined nature. "M Island" is a lead-heavy, subliminal stomper with plenty of low-end presence, and then "The Light Without Love" throws something of a curveball at the end with its comparatively uptempo machine rhythms and subtly euphoric nature.
…

Read more
$8.83
SAVE 25%
in stock
$6.63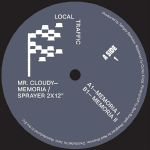 Cat: LT 003. Rel: 30 Oct 17
Techno
Memoria I

Memoria ll

Sprayer l

Sprayer ll
Review: Mr Cloudy has a sizable back catalogue on labels like Entropy, Dubwax and Millions Of Moments, and now he's been snapped up by Local Traffic to impart his sumptuous dubby wares across four tracks. "Memoria I" and "Memoria II" let the A-side simmer in a bubbling broth of dub techno ambience, all shimmering chords undergoing heavyweight processing. "Sprayer I" is still immensely mellow, although a little rhythmic pulse creeps its way into earshot via the movement of the gravelly chords, and then "Sprayer II" rounds the EP off with something approaching a beat-oriented excursion through the same billowing clouds of dub techno finery.
…

Read more
$10.78
SAVE 25%
in stock
$8.09
Items 1 to 2 of 2 on page 1 of 1