Labels
Items 1 to 3 of 3 on page 1 of 1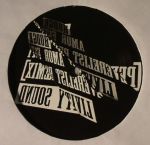 Cat: 399 YTIVIL. Rel: 19 Oct 15
Techno
Amor Fati (Peverelist remix) (6:13)

Tilikum (Hodge remix) (6:07)
Review: Ahead of the release of the Ytivil Dnuos compilation, Peverelist has opted to turn out a 12" that revisits two tracks from the recent past and sheds some fresh light on them. The label boss himself takes "Amor Fati" by Hodge to task, and turns out a delicately poised but satisfyingly weighty version replete with twinkling synth lines and jagged rhythmic incantations. Hodge meanwhile gets to have some fun with Bruce's "Tilikum", and weaves an emotional techno variation out of the component parts that stands amongst his most impassioned works to date, thanks in no small part to the heart-rending sweeps of chord that blanket the peak of the track.
…

Read more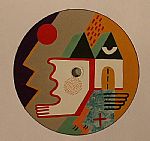 Cat: LIVITY 013. Rel: 09 Jun 14
Techno
Kowton - "More Games" (MM/KM More Names remix)

Asusu - "Too Much Time Has Passed" (Dresvn remix)
Review: So far the Livity Sound Remix project has thrown up some interesting, and eminently danceable results (with the Pangaea and Beneath efforts our current favourites) and given that between them, Pev, Asusu and Kowton released almost 20 original Livity Sound productions, this still leaves a healthy dose of material open to reinterpretation. This latest edition sees the Livity crew open their back catalogue to two of Germany's most compelling production units in Kassem Mosse and Mix Mup and the Dresvn pairing of Dynamo Dreesen and SVN and the results will resonate with anyone with a keen interest in the odder strands of house and techno. Leipzig's finest take on Kowton's 909 growler "More Games" under their KM/MM guise and deftly retain the original's horror core grime strings whilst slowing the pace to their own murky tempo. It's complemented well by the modular bleep-filled take on Asusu's "Too Much Time Has Passed" from Dresvn which will make complete sense for anyone that pays close attention to their respective Acido and SUED labels.
…

Read more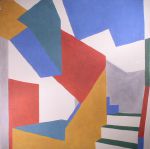 Cat: LIVITY 024. Rel: 29 May 17
Techno
Burning Sea (3:48)

Under Clearing Skies (5:42)

Still Early (7:00)

Sheer Chance Matters (5:52)

Wireframes (7:14)

Slice Of Life (5:01)

Further Inland (5:54)

Brinks & Limits (5:09)

Plateau (2:29)
Review: Stop the press! Peverelist is back in the game. This is a special announcement for various reasons; first and foremost, the mythical Bristolian hasn't been all too active on out charts as of late, and he most certainly hasn't turned in an album for quite some time. Back on his own Livity Sound stable, the artist's new album, Tessellations, sees the man take a different route to his previous excursions, one that's much more focused on deep tribalism and percussion. The first four segments, from "Burning Sea" to "Sheer Chance Matters" all approach the equation through slightly different lenses; the first two being grounded in ambience of polyrhythmic movement, while the following two mould into a subtle 4/4 flow, but the same ambience is present throughout. This is the same for "Wireframes" all the way to "Plateau", where Peverelist has shaped a new sort of minimalism into his rolling punch of tech-minded bass. Could this be the start of something new? We definitely think so...
…

Read more
Items 1 to 3 of 3 on page 1 of 1