Items 1 to 3 of 3 on page 1 of 1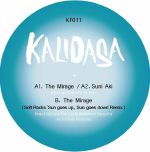 Cat: KF 011. Rel: 03 Apr 18
Disco/Nu-Disco
The Mirage

Suni Aki

The Mirage (Soft Rocks remix)
Review: From World Unknown, Magic Feet and Tusk Wax and now on to Kinfolk, Tim Rivers is marking out a place in that world of mystical grooves where acid, kosmische, new age, Balearic and wyrd pagan dance can all jam to the same beat. The title track on The Mirage is a gorgeous slice of motorik smoothness, letting sustained guitar nights ring out over a tender throb of bass. "Suni Aki" is a more dramatic piece with a healthy dose of 80s bombast poured over its loins, and then Soft Rocks grapples the B side for a remix of "The Mirage" that cuts the tow line and drifts off in the direction of the sunset.




…

Read more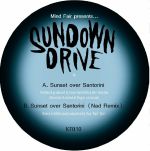 Cat: KF 010. Rel: 19 Mar 18
Disco/Nu-Disco
Sunset Over Santorini

Sunset Over Santorini (Nad remix)
Review: After the last 12" from Nick Murray and Kris Baha landed back in 2016, Kinfolk finally makes a welcome return with a surefire Balearic tumbler from Sundown Drive, a project purportedly presented by Golf Channel and Rogue Cat cats Mind Fair. "Sunset Over Santorini" is a gorgeous, 70s-tinged jam with pattering percussion, loose and easy bluesy guitar licks and a slinky bassline to die for. It's cool as a cucumber and twice as loose. Mustafa Ali's Nad project takes the reins on the B-side with an electrified remix of the track that heads into wonderfully tweaked out dubwise territory for the trippers.
…

Read more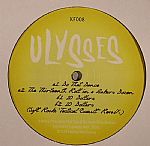 Cat: KF 008. Rel: 06 Oct 14
Disco/Nu-Disco
Do That Dance

The Thirteenth Roll In A Bakers Dozen

10 Dollars

10 Dollars (Soft Rocks 'Tactical Assault' remix)
Review: New Yorker Elliot Taub graces this 8th Kinfolk release with 3 trax of varying intesity. 'Do That Dance' is an uptempo melodic bass and synth heavy dancefloor jam. 'Thirteenth Roll in A Bakers Dozen' takes a slower spaced out route. '10 Dollars' conitnues in the same mode but this time with guitar and a super heavy synth line pushing the driving force along and finally Soft Rocks grab a hold of '10 Dollars' and turn it into a John Carpenter-esque electro groover.

…

Read more
Items 1 to 3 of 3 on page 1 of 1