Items 1 to 2 of 2 on page 1 of 1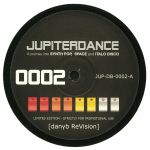 Cat: JPDB 0002. Rel: 09 Apr 18
Disco/Nu-Disco
Drone (8:06)

New York (6:57)

Cesem Ijos U (6:22)
Review: More planet-bounding disco fizz from Italian-in-Brooklyn Danyb as he updates his star-gazing "Jupiter Dance" series with three more deeply dug oddities; "Drone" takes the lead with a crucial exploration of a fondly-rekindled rolling Roland groove while "New York" plunges into deeper, more romantic territories. finally "Cesem Ljos U" kisses us goodnight with sweeping pads, glistening FX and a slap-bass to die for. Happy travels.
…

Read more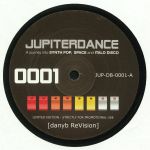 Cat: JPDB 0001. Rel: 15 Jan 18
Disco/Nu-Disco
Enough! Go! (8:48)

Synth Race (9:15)

Fown (6:34)
Review: The Italian groove stallion behind The Sound Of New York City radio station gets busy on a brand new imprint Jupiter Dance. Taking off where he left us on Busted last year, it's all about the slinky Italo feels and late night NYC chuggery as we're immersed in deep, heavily textured grooves. "Enough! Go!" is a jacking, wriggling acid funker, "Synth Race" paces and chases with a Yello-style dynamic while "Fown" brings us back to down to earth with a Balearic softness as a cosmic chug is wrapped up tightly in soaring guitar licks. Sweet dreams.
…

Read more
Items 1 to 2 of 2 on page 1 of 1