Items 1 to 2 of 2 on page 1 of 1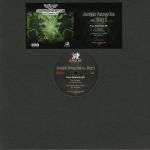 Cat: JR 001. Rel: 23 Jan 18
Drum And Bass
Red Now (5:31)

Into Your Arms (8:10)

Red Now (Bizzy B VIP) (6:28)

Seduction (7:19)
Review: Bizzy B's Junglist Records enjoys its first vinylised outing with this return to the launch release from Luton artist Joseph's Perception. "Red Now" takes the lead with its soft skank insistency and sizzling bassline but if you're looking for the real damagement, it's all about don Bizzy's face-melting jungle VIP. Elsewhere "Into Your Arms" is all about the deep atmospheric textures while "Seduction" closes on a restrained space-bound steppy mission with subtle Fats-style vocal textures. A timely trip.
…

Read more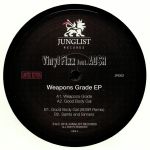 Cat: JR 002. Rel: 26 Mar 18
Drum And Bass
Weapons Grade (5:40)

Good Body Gal (5:38)

Good Body Gal (ADSR remix) (6:39)

Saints & Sinners (5:12)
Review: Bizzy B's Junglist returns with a fresh wax outing from Toronto's Vinyl Fixx and the title says it all; "Weapons Grade". It lives up to its moniker, too; a savage splash of brutal choppage it's laden with a range of references and samples that you're likely to recognise... And consequently kick right off to. "Good Body Gal" continues the theme of new-old with a familiar bassline and some warm-as-toast dancehall bars while "Saints & Sinners" pummels us into the ground with some venomous tech funk the freshness of which we haven't experienced since at least 1999. Throw in a killer remix from ADSR and you've got yourself an absolute stinker of a session. Feed your jungle fixx today!
…

Read more
Items 1 to 2 of 2 on page 1 of 1