Items 1 to 2 of 2 on page 1 of 1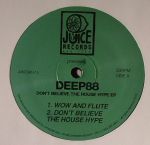 Cat: JUICE 98315. Rel: 07 Sep 15
Deep House
Wow & Flute (6:18)

Don't Believe The House Hype (5:03)

Summer (Slow Porno mix) (5:04)

2000 Balloons (6:12)
Review: Alessandro Pasini, or known as Deep88 when he pulls his dance face, has been putting out music largely through his own 12Records over the last six years, but he's making an outside appearance for the US' Juice Records this week, a mighty fine addition to his now impressive catalogue. He's in house mode and the Italian delivers the A-side in the form of "Wow & Flute", a Pal Joey kinda joint with a laid-back approach, and the much heavier, stomped-out house killah that is "Don't Believe The House Hype". On the flip, there's deeper and wonkier moments on the Slow Porn remix of "Summer", but also a load of heavier house experimentation on the utterly stoned "2000 Balloons". A house tip for you, that's for sure.
…

Read more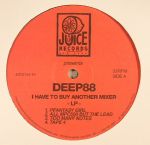 Cat: JUICE 75416. Rel: 10 Oct 16
Deep House
Pfantasy Girl (4:06)

All MPC500 But The Lead (4:20)

Too Many Notes (3:41)

Tape 4 (4:38)

L'archivo (recorded live in Bologna 15/2/2015) (5:24)

Track ID? (4:21)

Tape 2 (5:33)
Review: Alessandro Passini's most recent full-length under the Deep88 alias, The Black Album, was a fine collection of analogue-rich deep house containing a wealth of club-ready material. Less than six months on from the release of that set, he's at it again, serving up a solid mini-album of straight-up deep house delights. Highlights come thick and fast, from the Balearic era, piano-laden positivity of "Too Many Notes" and fluid "Track 4" - all acid bass, spacey pads and bustling melody lines - to the chunkier grooves and hazier lead lines of straight-to-tape jam "L'Archivo", and jackin' but dreamy "Tape 2". Due to the prevailing retro-futurist vibe, it feels a little like a long-lost EP from the early '90s, which is no bad thing.
…

Read more
Items 1 to 2 of 2 on page 1 of 1