Items 1 to 3 of 3 on page 1 of 1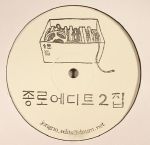 Cat: JNE 02. Rel: 26 Oct 16
Disco/Nu-Disco
Down (7:13)

Space (6:30)
Cat: JNE 05. Rel: 18 Sep 17
Disco/Nu-Disco
42 Below (6:58)

Drums & A Bass (7:49)
Review: Fresh from a fine guest appearance on the long running KAT edits imprint, the Jongno Edits crew returns home for volume five in their ongoing reworks series. This time round, there are two tracks to choose from, both of which explore the left-of-centre, post-punk end of disco. A-side "42 Below" sets the tone, focusing the action around a lolloping, dub-flecked jazz-funk groove rich in elastic electric bass, loose drumming and bold synthesizer lines. The mysterious re-editors flip the script on the B-side, delivering an impeccable rearrangement of a lesser-known, low-slung mutant disco favourite that's as intoxicating as it is heavy.
…

Read more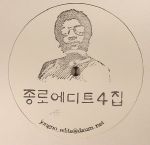 Cat: JNE 04. Rel: 31 May 17
Disco/Nu-Disco
Heavenly Me (edit) (6:50)

No One Knows (edit) (5:56)
Review: Jongno Edits are back with their fourth release and they got two tracks of pure Korean groove, by editing wizard Mori Ra. Side A is "Heavenly Me" (edit) which is a boogie banger that embraces all the elements of the top tunes of that era: strong drum beat, slappy bass synth and a violin break down. On the flip, there's "No One Knows" (edit) which is your perfect sunset balearic cut for this summer. The lush bell melodies perfectly match the suave voices so prepare your ascension to the clouds accompanied by delayed organs and acoustic guitar 'where Jeju becomes Ibiza'.
…

Read more
Items 1 to 3 of 3 on page 1 of 1