Labels
Items 1 to 3 of 3 on page 1 of 1
Cat: JCKBRWN 003. Rel: 04 Jul 16
Deep House
Midnight Blue (5:08)

Play One For Me (5:45)

Tape One (4:49)

Doubt Not, Fear Not (5:33)
Review: Thrid Jackie Brown issue is El Nino Andres tribute to MPC 60 & ASR 10 chopping bits and pieces of soul records - tracks done few years back straight to DAT tapes.
…

Read more
Cat: JCKBRWN 004. Rel: 15 May 17
Deep House
Slow Mo Tuesdays

Riviera Blues

1210s, 303s & 404s

Low End Massacre
Review: Croatian producer El Nino Andres is steadily building up an impressive arsenal of disco and deep house heaters on his own Jackie Brown label, having previously been running the Hija De Colombia imprint. On this fourth slab he pushes his sound into even more intriguing places. Opening track "Slow Mo Tuesdays" lets things roll out on a decidedly dusty tip carried by off-kilter drums. "Riviera Blues" stands out thanks to its tough 80s-styled drums and warm soulful melodics. "Low End Massacre" meanwhile gets choppy in the edit and makes a devilishly good job of riding the samples.
…

Read more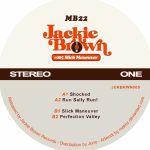 Cat: JCKBRWN 005. Rel: 04 Dec 17
Deep House
Shocked

Run Sally Run!

Slick Maneuver

Perfection Valley
Review: After four volumes of smoking hot disco house business from El Nino, Jackie Brown turn their attention to debutant producer MB22, who understands the party-starting manifesto of the label intrinsically. "Shocked" kicks the record off in a flurry of heated chops and licks, all driven by a nagging hat, and then "Run Sally Run" switches stance to a winsome 80s tinged electro jam, tape-hiss included. "Slick Maneuver" takes things into smooth, boogie-indebted territory and then "Perfection Valley" rounds the record off with the kind of dusty electro funk that Moon B made his name with.
…

Read more
Items 1 to 3 of 3 on page 1 of 1