Items 1 to 2 of 2 on page 1 of 1
Cat: ICE 014. Rel: 11 Apr 18
Coldwave/Synth
Haunted (By The Girl He Always Wanted) (3:49)

Only Lover (with Zenobia Conkerite) (4:12)

Ain't Got No Money (5:04)

Music Business (3:42)

Young Boy Dance (with Martha Gehman) (3:11)

Nose Dive (2:11)

I Just Want You To Love Me (with Maria Vidal) (4:42)

Allow Me (To Destroy You) (3:57)

Kin Tama (4:53)

Friend (4:24)
Review: New York synth-wizard Tommy Mendel was one of the go-to session musicians of the 1980s, playing for and alongside such greats as Todd Rundgren, Tina Turner, The Clash and The B-52s. Throughout the period, he also recorded a swathe of solo synth-pop songs, very few of which were ever released at the time. Here, Canadian diggers Invisible City Editions attempt to set the record straight, gathering together ten mostly unreleased gems from Mandel's vaults. It's a strong collection, all told, with Mandel flitting between electrofunk-influenced pop gems ("You're My Only Lover"), spacey synth-scapes ("Aint Got No $"), fuzzy P-funk ("Music Business"), stylish new wave experimentalism ("I Just Want You To Love Me") and atmospheric, near-Balearic treats ("Kin Tama").
…

Read more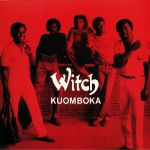 Cat: ICE 006LP. Rel: 19 Mar 18
Soul
Erotic Delight (5:30)

I Can Do Without You (6:11)

Believer Ma Lover (5:59)

Kuomboka (5:08)

Come Together (5:03)

More Sweat Than Sweet (5:25)

I Wanna See The Light (5:02)

Jah Let The Sunshine (5:52)
Review: Kuomboka was the last album Zambian band Witch ever created. Privately released in 1984, a year before they split, it's the zenith of their final funky hoorah... Gathering influences and references from disco, boogie and loose structures of highlife and Afrofunk, it's one of their most timeless and enduring records. From the partnership of African guitars and horns with the epic slap bass and staccato phrases of the title track to the 10CC style balladry of "Believer Ma Lover" via the spacey, cosmic drama of "More Sweat Than Sweet", this 30 year old document stands the test of time incredibly well.


…

Read more
Played by:
Charles Maurice
,
Guillaume Des Bois (Macadam Mambo)
,
PHANTOM ISLAND
,
Shawn Ryan (Universal Cave)
,
Andrew Allsgood (Free Association)
,
Sock Free Hideaway
,
Juno Recommends Disco
,
Nick The Record
,
Kwinzola
,
Afro Beat Foundation
,
I Love Disco!
,
Ray Mang
,
INKSWEL (HOT SHOT SOUNDS / BBE)
,
Mr. Mendel
,
Daniel T. (Cosmic Kids/Heat-Wave)
,
Roberto from Toronto
,
Sacha Mambo (Macadam Mambo)
…

Read more
Items 1 to 2 of 2 on page 1 of 1