Items 1 to 2 of 2 on page 1 of 1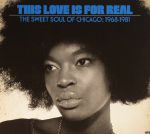 VARIOUS
Cat: IS 6802CD. Rel: 24 Feb 17
Soul
Essence - "Sweet Fools"

Harlem Meat Company - "I'm Not Gonna Be Anybody's Fool"

Magnum Force - "Share My Love With You"

Billy & The Bloodknots - "Gotta Get Away"

The Chi-Lites - "(Um, Um) My Baby Loves Me"

The Lost Generation - "Wait A Minute"

The Turks - "You Turn Me On"

The Stimulators - "Warm Summer Nights"

Hands Of Time - "This Love Is For Real"

Chocolate Sunday - "Second Story Man"

The Eight Minutes - "Oh Yes I Do"

The Visitors - "Until You Came Along"

Enchanting Enchanters - "No One In This World"

Magnetic Force - "Ole Sweet Music"

The Lintons - "Lost Love"

The Vegas - "I Need Your Love"

The Ledgends - "Gotta Let You Go"

Independents - "I Just Want To Be There"

The Cheers - "I Made Up My Mind"

The Lovelites - "This Love Is Real"

The Esquires - "Girls In The City"

Windy City - "Just For You"
Review: Although most will associate soul with the Motor City of Detroit, it could be argued that Chicagoan artists played just a big a role in its later development and popularization. This Love Is For Real attempts to tell the story of Chicago's impact on soul, not via the city's best-known artists (Curtis Mayfield and the Impressions, for example), but rather records written, produced and performed by lesser-known Windy City talents. There's naturally much to admire, from the classic sweetness of the Chi-Lites' "(Um, um) My Baby Loves Me" and the Mayfield-esque "Second Story Man" by Chocolate Sunday, to the impassioned bliss of "This Love Is Real" by the Lovelites, and the rock-tinged passion of Windy City's "Just For You".
…

Read more
$13.82
SAVE 20%
in stock
$11.05
VARIOUS
Cat: IS 6801CD. Rel: 17 Mar 17
Soul
The Invitations - "Let's Love (& Find Together)"

Fesrivals - "Take Your Time"

Choice Of Colors - "Betcha Didn't Know"

The Butlers - "She's Gone"

The Cruisers - "Picture Us"

The Ethics - "Good Luck"

Broadway Express - "It's Ok With Me"

The Futures - "Breaking Up"

Phyllis Smith - "I Need Somebody To Love"

Cahper One - "Let Me Down Easy (Have It Your Way)"

The Coalitions - "Instead...how Are You"

Donnie Elbert - "Can't Get Used To Losing You"

The United Four - "Look At Her Now"

The Courtships - "Love Ain't Love (Till You Give It To Somebody)"

Paradise - "We Belong Together"

J Kelly & Premiers - "She Calls Me Baby"

Toppiks - "Surrender"

The Geminiles - "Thinking About My Baby"

The Mello Moods - "Tell Love Hello"

The Epsilons - "The Echo"

The Blue Notes - "This Time Will Be Different"

The Elegant's - "When You're Gone Away"
Items 1 to 2 of 2 on page 1 of 1