Hpty Finland
Items 1 to 3 of 3 on page 1 of 1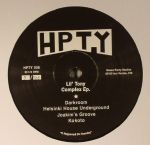 Cat: HPTY 006. Rel: 22 Feb 16
Deep House
Darkroom (7:33)

Helsinki House Underground (9:18)

Joakim's Groove (8:31)

Kokoto (7:18)
$11.05
SAVE 45%
in stock
$6.08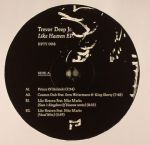 Cat: HPTY 008. Rel: 28 Nov 16
Deep House
Prince Of Helsinki (7:30)

Cosmos Dub (feat Sven Weisemann & King Shorty) (7:49)

Like Heaven (feat Niko Marks - Sven Kingdom Of Heaven remix) (8:30)

Like Heaven (feat Niko Marks - vocal mix) (6:01)
Review: In the Internet age, it's remarkable that Finnish producer Trevor Deep Jr. has managed to retain his long-guarded anonymity. While mystery sometimes sells, it's the quality of his releases that keeps deep house heads coming back for more. On this 12", he's called in a few favours. King Shorty and Sven Weisemann lend a hand on the impeccably smoky, head-in-the-clouds brilliance of "Cosmos Dub", with the latter also providing a typically dreamy, deep and dubbed out take on title track "Like Heaven". His version largely omits Niko Marks emotion-rich vocal, which naturally takes more prominence on Deep's accompanying Vocal Mix. The fluid deep house lusciousness of "Prince of Helsinki" completes an excellent package.
…

Read more
$11.62
SAVE 30%
in stock
$8.13
VARIOUS
Cat: HPTY 010. Rel: 26 Mar 18
Deep House
Mundo - "Algo Mas" (Sansibar Tanz-Sane mix) (6:16)

Good Joe - "No More Dreaming" (5:15)

Mirage Man - "Amygdala Hijack" (5:27)

Trevor Deep Jr - "Transpose Believer" (6:00)

Lil'Tony - "DRM" (7:09)

Byman/Stennabb - "Modern Dynamic Lounge Music" (3:38)

TDJ - "For The People" (skit) (1:07)

Inbetween Nights - "Other Place" (6:02)

DJ Rubio - "The Domicile Of Endless Heartache" (7:23)

Bongorock - "Love Theme From Siltanen" (3:54)

V_T_X - "#9rl" (8:01)

Shuffless - "Ratina" (6:21)

TDJ - "All I Have Is My Memoirs" (2:59)
Review: Trevor Deep Jnr's HPTY imprint celebrates a landmark 10 releases with this immaculate compendium of native Finnish electronica. 13 tracks across four sides, HPTY's scope, range and aesthetic is flexed and develop through a whole host of styles and sounds; the eerie spaciousness and staggered vocals on Trevor's "Transpose Believer", the breathing cosmic pads and solitary toms of Byman & Stennabb's "Modern Dynamic Lounge Music", the mystic unhurried sinewy leads of DJ Rubio's "The Domicile Of Endless Heartache" and the brushed cymbal jazz and heritage synth tones of Shuffless' "Ratina" are just some of the homegrown delights on offer here. Grab it while you can.
…

Read more
Items 1 to 3 of 3 on page 1 of 1