Labels
Items 1 to 2 of 2 on page 1 of 1
Cat: HOMAGE 003. Rel: 02 Apr 18
Disco/Nu-Disco
Brawn

Rudy's Disc 31

When We Kiss

State Of Nature
Review: NYC label HOMAGE continues a hot streak with their third project from UK producer JVXTA (pronounced Jux-tuh). After an excellent debut on his label Hardmatter, JVXTA gifts HOMAGE with four NY-inspired deep house cuts. "Brawn" is an immediate tone setter. The banging stand-out made waves overseas prior to it's online premier thanks to Cinthie, who pressed it to dub plate and played it as the opening track at her Boiler Room set in Berlin. The remaining tracks offer a look into JVXTA's unique tastes, and listeners will find themselves lost in quick-fire deep jazz, dreamy 80s tinged house, and a rolling tribal cut that we wished never ended. Serious selectors take note, HOMAGE is not messing around, and this is a project that you'll reach for again and again.





…

Read more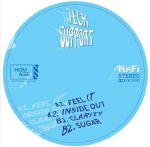 Cat: HOMAGE 001. Rel: 31 Jul 17
Disco/Nu-Disco
Feel It (7:22)

Inside Out (9:12)

Clarity (5:30)

Sugar (7:46)
Review: New York meets Brighton as both label and artist step out on wax for the first time. This is a new, exciting realm for Homage, but they surely know they're onto a winner with the feel good disco edit tones of Tech Support. There are classics embedded into these fine jams, with "Feel It" coming on particularly summery in its laid back disco funk stylings. "Inside Out" is slightly more looped up, but no less uplifting, while "Clarity" heads into a more woozy, filtered groove that feels inspired by the likes of Theo Parrish's Ugly Edits. By way of contrast "Sugar" is a much more electronic affair that kicks with purpose while simultaneously reaching for the stars.
…

Read more
Items 1 to 2 of 2 on page 1 of 1