Items 1 to 2 of 2 on page 1 of 1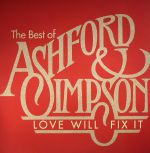 Cat: GLRLP 0004. Rel: 28 Apr 16
Soul
Found A Cure (3:42)

It Seem To Hang On (3:40)

Don't Cost You Nothing (4:02)

Over & Over (3:19)

Nobody Knows (3:48)

Tried, Tested & Found True (3:44)

Main Line (3:13)

Have You Ever Tried It (3:24)

So So Satisfied (3:35)

One More Try (5:10)

Love Don't Make It Right (5:08)

It Shows In The Eyes (3:26)

Is It Still Good To Ya (4:35)

(I'd Know You) Anywhere (3:44)

Stay Free (5:26)

Send It (3:37)

Somebody Told A Lie (3:12)

Ain't It A Shame (5:26)

Bourgie Bourgie (6:07)
Review: The husband/wife songwriting powerhouse that gave us most of Marvin Gaye and Tammi Terrell's 60s hits and the lion's share of Diana Ross's early material, Nickolas and Valerie Simpson launched their own recording career in the early 70s that lasted well into the 90s. Much of the sharpest and most prolific output during this second chapter of their 40 year career was between 1973 and 1981, which is displayed right here on this limited Record Store Day gatefold vinyl. From the glam boogie struts of "Nobody Knows" to the slap bass 80s funk of "Love Don't Make It Right", their dynamic partnership - with Ashford's flexible falsetto and Valerie's gutsy Turnerisms - is truly one of a kind and has aged incredibly well.
…

Read more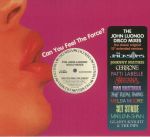 Cat: GLRCDXD 5. Rel: 27 Oct 17
Disco/Nu-Disco
Dan Hartman - "Vertigo/Relight My Fire" (feat Loleatta Holloway)

The Jacksons - "Shake Your Body (Down To The Ground)"

Patti LaBelle - "Music Is My Way Of Life"

Jackie Moore - "This Time Baby"

Johnny Mathis - "Gone, Gone, Gone"

Marilyn McCoo & Billy Davis Jr - "Shine On Silver Moon"

Real Thing - "Can You Feel The Force"

Melba Moore - "Pick Me Up, I'll Dance"

Mighty Clouds Of Joy - "In These Changing Times"

Marlena Shaw - "Touch Me In The Morning"

Sly Stone - "Dance To The Music"

The Jacksons - "Blame It On The Boogie"

Melba Moore - "You Stepped Into My Life"

Stanley Clarke - "Just A Feeling"

Southern Exposure - "On Our Way"

Sarah Dash - "(Come & Take This) Candy From Your Baby"

Santana - "One Chain (Don't Make No Prison)"

The Quick - "Zulu"

Cerrone - "Back Track"

Gladys Knight & The Pips - "I Will Fight"

The Jacksons - "Walk Right Now"
Items 1 to 2 of 2 on page 1 of 1