Items 1 to 2 of 2 on page 1 of 1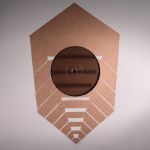 Syrup EP
(limited 12" in handcrafted sleeve + MP3 download code)
Cat: GHSTLTD 001. Rel: 26 Nov 14
Drum And Bass
Syrup

Swinger

Pecker

Endless Blue (bonus track - download)
Review: Based out of London, Goldman Records is a new label that prides itself on clean visual aesthetics as much as it does a dirty drum and bass sound. The best example of the label's twisted side is the track "Swinger" which chops mutant vocals of Busta Rhymes "Break Ya Neck" with tear out scrapes of bass, crunch and warped synths. This 12"s A-side, "Syrup", counteracts the harshness of the B1 with a liquid and flowing production laced with muscular groove. "Pecker" samples more unknown hip hop (Method Man vocals the hint), intertwining it with frenetic drum machine percussion and grubby drums. This record also features a bonus download; a cosmically smooth roller coaster "Endless Blue".
…

Read more
IV
(limited 12" in silk screened sleeve + inserts + MP3 download code)
Cat: GHST 004. Rel: 09 Feb 16
Drum And Bass
Blood Brother (6:20)

Brut (6:55)

Structure (bonus track - download)
Review: London label Goldman Records comes forth with their first 12" of 2016 and a fourth round of beat science from G.H.O.S.T. We've been seriously impressed with this unknown production unit's contributions to the Goldman cause thus far, and these two tracks only add to this glowering reputation. Lead cut "Blood Brother" is a broody roller, pairing earthy bass with smartly coiled drums and roots vocal samples resulting in an overall sensation of eeriness. Complementing this, "Brut" showcases the break-moulding talents of G.H.O.S.T., laying them hard over an ethereal backdrop blessed with warm bass and yet more vocal samples suspended in space. Comes as a limited 12" in silk screened sleeve replete with MP3 download code featuring bonus track "Structure"!
…

Read more
Items 1 to 2 of 2 on page 1 of 1