Gforce Software
Items 1 to 1 of 1 on page 1 of 1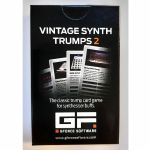 Cat: 637937 Rel: 30 Jan 17
Synth-themed Top Trumps card game
Notes: After the success of the original Vintage Synth Trumps game back in the early 2000's, we're pleased to announce the second edition, the imaginatively titled Vintage Synth Trumps 2.

Containing 52 classic synths, 12 categories, and specially commissioned images, Vintage Synth Trumps 2 is the perfect way for synth-nerds to test their own knowledge and settle synth arguments once and for all.

Playing is easy. Simply divide the cards between the number of players before taking it in turns to read aloud a statistic from your card.

For example, "Oberheim 8-voice - Desirability = 10 out of 10". Everyone then compares the card on the top of their hand and the highest scoring instrument in that category wins that round. The person who ends up with all of the opponent's cards via a combination of skill, knowledge and cunning, wins the game.

Vintage Synth Trumps 2, the perfect synth-fetishist's gift for birthdays, long flights, forum banter, pub quizzes, train journeys, annoying children and general showing-off.

…

Read more
More than 10 in stock
$9.95
Items 1 to 1 of 1 on page 1 of 1