Items 1 to 2 of 2 on page 1 of 1
Cat: GP 003.
Minimal/Tech House
TFTC

MITD

STTS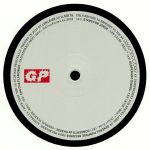 Cat: GPAKA 001. Rel: 21 Mar 18
Disco/Nu-Disco
Len Leise - "Stars For Jorge" (edit) (5:29)

Len Leise - "Desperado Dining" (edit) (5:12)

General Purpose - "Concerto De Chasse" (edit) (6:45)

Salvador Ricardo - "Cha Cha Flamongo" (edit) (4:34)
Review: General Purpose boys Len Leise and Salvador Ricardo have decided to launch their own re-edit series. For the first Also Known as Edits 12", Leise has decided to raid his own archive, offering up two tasty reworks first featured on his 2015 LL Edits EP (a 12" that now goes for silly money online). These brilliant reworks - the dreamy Brazilian Balearica of "Stars for Jorge" and equally starry, horizontal jazz-funk flex of "Desperado Dining" - can be found on the A-side, with the flip reserved for previously unheard rubs. There's "Conerto de Chasse", a heavily percussive, deep Afro-house edit from General Purpose that's also blessed with seriously tactile melodies, and Salvador Ricardo's "Cha Cha Flamongo", a Flamenco-goes-cha-cha cut that's as glassy-eyed and positive as it is loved-up and Balearic.
…

Read more
Items 1 to 2 of 2 on page 1 of 1