Items 1 to 1 of 1 on page 1 of 1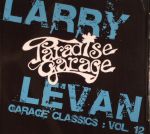 Cat: ZUKI 2239. Rel: 08 Aug 17
Disco/Nu-Disco
Colonel Abrams - "Trapped" (dance version)

Shirley Lites - "Heat You Up (Melt You Down)"

Fat Larry's Band - "Act Like You Know"

Luther Vandross - "Never Too Much"

Gwen Guthrie - "Hopscotch" (Larry Levan instrumental)

Giorgio Moroder - "Evolution"

The Gap Band - "Burn Rubber (Why You Wanna Hurt Me)"

Liquid Liquid - "Rubbermiro"

Skyy - "First Time Around" (Larry Levan mix)

Ripple - "The Beat Goes On & On"
Review: The 12th volume in the ongoing Garage Classics series contains another ten slabs of dancefloor dynamite that were once championed by the late, great Larry Levan at New York's legendary Paradise Garage. As you'd expect, there are a couple of vintage Levan remixes present - including a hard-to-find instrumental take on Gwen Guthrie's "Hopscotch" - alongside the kind of tracks that should be in any discerning DJ's record box or CD wallet (Shirley Lites' sweaty "Heat You Up (Melt You Down)", Colonel Abrams' "Trapped (Dance Mix)" and Luther Vandross's '80s soul sing-along "Never Too Much" being the greatest examples). The compilers get extra Brownie points for including Liquid Liquid's low-slung dub-disco thriller "Rubbemiro" and Girigio Moroder's guitar-laden "Evolution", which is often overlooked by DJs.
…

Read more
Items 1 to 1 of 1 on page 1 of 1