Items 1 to 3 of 3 on page 1 of 1
Cat: GEDITS 004.
Disco/Nu-Disco
Eternal

Partee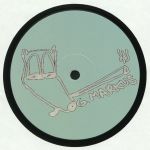 Cat: GEDITS 003. Rel: 06 Dec 17
Disco/Nu-Disco
Power (7:16)

Ichiban (8:06)
Review: G. Markus returns with two fresh edits after his first G-Edits release sold out and enjoyed heavy support from all sorts of DJs. Known for his releases on Roots For Bloom, Sneaky and Monologues Records, the London based disco fiend has crafted a groovy house sound complete with vocal samples and funky bass lines. This year saw the launch of his aforementioned edits series and he's is back with the third installment. On the A side we have "Power" a killer edit that features funky vocal and guitar samples and a lot of bass courtesy of the heavy kick. On the flip, "Ichiban" might sound familiar - it's an oldie but a Goody Goody. G. Markus delivers a respectful edit of this classic.
…

Read more
Cat: GEDITS 002. Rel: 25 May 17
Disco/Nu-Disco
Missin' (6:57)

Daze (5:48)
Items 1 to 3 of 3 on page 1 of 1