Items 1 to 2 of 2 on page 1 of 1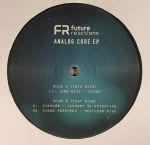 Cat: FR 003. Rel: 13 Feb 17
Deep House
Jose Rico - "Orion" (9:27)

Cygnuss - "Journey To Outertape" (8:28)

Diego Perrison - "Restless Ride" (8:16)
Review: Spanish deep tech label Future Reactions are beginning to pick up serious pace. Now on their third release, it's a fully international affair with three superb constructions. First up is Madrid's Jose Rico with a relentless, progressive bed of atmospheres that majestically opens up with vibrant synths when you least expect it. Jose also appears with Leonid as Cygnuss whose "Journey To Outertape" adds roomy space between the star-gazing pad to fully hypnotic affect. "Restless Ride" flies us 6000 miles due south west to Buenos Aires for a classic Trax-style synth jam with just the right edge of sinewy acid. Powerful.
…

Read more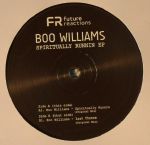 Cat: FR 002. Rel: 09 Jul 15
Deep House
Spiritually Runnin (7:16)

Last Chance (7:51)
Review: Spain's fledgling Future Reactions label goes more for quality over quantity, with only a handful of releases since 2014's VA by Detroit's Rick Wade and Norm Talley, Satore and Cris J. This time they add another legend to their catalogue, Chicago's larger-than-life Boo Williams. The house master comes in with two strong club cuts: "Spiritually Runnin" is a deep yet driving groover surrounded by airy piano keys, meditative pads and his familiarly swinging percussion twists; "Last Chance" is equally deep and moody, except this time the bassline is more pronounced, bumpier and strictly in Chicago mode. A class act, as per usual.
…

Read more
Played by:
Owen Jay (Batti Batti / Gauss )
,
Tomi Chair
,
Ernie (Minuendo Recordings)
,
Owain Kimber (Owain K)
,
STEREO 12"
,
Ksoul
,
Monsieur Cedric (Serie Limitee)
,
Satore (Hizou Deep Rooted Music)
,
Jesus Gonsev
,
Juno Recommends Deep House
,
Hugo R. (Future Reactions)
,
DJP / Soul Print Recordings
,
ESS O ESS
…

Read more
Items 1 to 2 of 2 on page 1 of 1