Items 1 to 2 of 2 on page 1 of 1
The Guitar

The Vocoder
Review: Two fresh dancefloor-friendly cut-ups from south London's Nebraska. 'The Guitar' flips addictive jazz guitar loops over golden-era hardcore hip hop breaks. 'The Vocoder' obsessively re-thinks a tiny fragments of harmony from a less well-known version of a disco classic.





…

Read more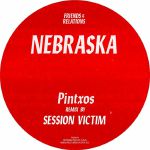 Cat: F&R 004. Rel: 26 Mar 18
Deep House
Pintxos (Session Victim remix)

Rat Boogie (Mr Beatnick remix)

Keep What Ya Got (Macel Vogel remix)
Review: Nebraska fires up his own Friends & Relations label once again to take a trip into the strain of lilting, summery deep house that has previously fitted in so well on Rush Hour, Mister Saturday Night and more. This time around Nebraska is getting the remix treatment from an all star cast, leading in with the woozy, soul-soaked shuffle of Session Victim's treatment of "Pintxos." Mr Beatnick keeps things suitably deep when tackling "Rat Boogie," all laid back disco patter and filtered funk, before Marcel Vogel goes one step further on "Keep What Ya Got" and rolls out slow and juicy funk of the raunchiest kind.
…

Read more
Items 1 to 2 of 2 on page 1 of 1