Items 1 to 2 of 2 on page 1 of 1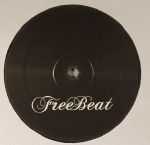 Cat: FREEBEAT 05. Rel: 31 Mar 16
Techno
X-Cyg (2:41)

Gamma (8:45)

Sadr (7:59)

Delta (8:28)

YCyg (6:50)

Arsec (6:44)

Deneb (9:50)
Review: Madrid's Jose Rico of Downbeat Records has also previously released on Semantica and ELEVE and now teams up with Leonid as Cygnuss for some soulful deep techno on Night Drive. Freebeat has previously brought us Chicago deep4life legends Chris Gray and Da Rand Land: so they know what's what! We particularly enjoyed the high tech soul of "Gamma" and "Delta"; emotive tracks which were reminiscent of the classic vibes of Transmat or Strobe; you'd swear they were lost tapes from 1990. The beatless journey "Ycyg" has that early 90's kind of classic vibe too but more of the UK bleep techno variety. There's a right stomper in the form "Arsec" whose tough as nails 909 and 303 workout is reminiscent of the best of Plus 8. Definitely one for the nostalgists, matter of fact it's highly recommended!
…

Read more
$16.03
SAVE 25%
in stock
$12.02
Cat: FREEBEAT 006. Rel: 26 Jul 17
Techno
Track 1 (5:26)

Track 2 (4:18)

Track 3 (5:54)
Review: Miltiadis Merentitis is one of the greatest exponents of the underground Greek scene. After several releases on Nous, Echovolt and Synapsis he joins Jose Rico's Spanish imprint Freebeat with the Epitome Of Things EP. Miltiades explores the driest of territories through his characteristic chords, kicks and percussion which will transport you to another world. Take the first cut on the A side for instance: a deep hypnotic techno cut that creates perfect trance induction by relying on the most basic of analogue elements. On the flip, the second track is a gothic lo-fi house jam reminiscent of New York City's Patricia while the final offering channels the spirit of early '90's Detroit on this fine serving of hi-tech soul.
…

Read more
Items 1 to 2 of 2 on page 1 of 1