Items 1 to 2 of 2 on page 1 of 1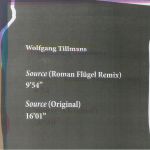 Source
(12" + MP3 download code)
Cat: FRAGILE 07. Rel: 09 May 18
Techno
Source (Roman Flugel mix) (9:28)

Source (15:54)
Review: Acclaimed photographer and visual artist Wolfgang Tillmans seems to be devoting more of his time to music making. Source marks his second EP of the year, following the February release of Heute Will Ich Frei Sein. In its original form (featured on the flipside), "Source" is an epic piece of next level electronic experimentalism, with Tillmans wrapping his own manipulated vocal howls, yelps and other non-verbal noises in fuzzy modular synths and end-of-days electronics. This 16-minute original version comes accompanied by a naturally more dancefloor-friendly revision by Roman Flugel, who places rolling, mind-altering drum machine hits and a rumbling bassline underneath Tillmans' eccentric original elements.
…

Read more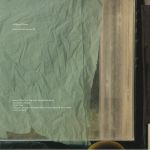 Cat: FRAGILE 06. Rel: 07 Feb 18
Electro
Heute Will Ich Frei Sein (feat Wreck & Reference) (5:53)

Completely Changed (3:23)

On My Own (3:35)

Fast Lane (Justin Strauss & Bryan Mette Whatever/Whatever remix) (8:05)

Tired Car Alarm (1:06)
Review: Although primarily known as a photographer and award-winning artist, Berlin stalwart Wolfgang Tillmans has dabbled in music for most of his adult life. His latest EP - his first for two years - largely explores his love of left-of-centre minimal wave and vintage experimental electronica. It's very entertaining, all told, with his distinctively stylish vocals rising above dusty drum machine rhythms and dirt-encrusted synthesizer melodies. Californian experimentalists Wreck & Reference lend a hand on the superb title track, while Justin Strauss and Bryan Mette give the previously released "Fast Lane" a gently pulsating, dubbed-out, new wave twist. It's a little more dancefloor-friendly than the rest of the EP, but still in keeping with Tillmans' artistic vision.
…

Read more
Items 1 to 2 of 2 on page 1 of 1