Labels
Items 1 to 3 of 3 on page 1 of 1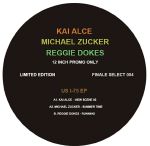 Cat: FSS 004. Rel: 13 Nov 17
Deep House
Kai Alce - "Scene 2"

Michael Zucker - "Summer Time"

Reggie Dokes - "Running"
Review: The Finale Sessions Select series finds Michael Zucker steering his label into new, techy pastures with a host of esteemed guests on board. For this fourth round, he's called upon Kai Alce and Reggie Dokes to stand alongside him in demonstrating exactly what's great about contemporary house and techno. Alce is up first with "Scene 2", bringing a bubbly, sleek confection of machine soul to the table. Zucker gets things rolling along steady with the heady trip of "Summer Time", and then Reggie Dokes sends the record drifting off on a wonderfully crooked tip with "Running".
…

Read more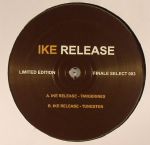 Cat: FSS 003. Rel: 09 Jan 17
Deep House
Tangerines (7:26)

Tungsten (5:33)
Review: It's been a while since we heard something fresh from Ike Release. The Chicago-based producer was on a productive roll through 2015, both solo and alongside Hakim Murphy in Innerspace Halflife, but now he breaks his silence with a sturdy two-tracker for Finale Sessions. As you would expect, gritty machine jams are the order of the day, but there's plenty of soul and mystery sprinkled atop the box beats to make for spellbinding results. Both "Tangerines" and "Tungsten" lurk in the lower registers of the tempo range, but there's a weight behind these productions that makes it far from mere warm-up fodder.
…

Read more
$9.23
SAVE 30%
in stock
$6.46
Cat: FSS 005. Rel: 12 Mar 18
Deep House
40 Day's

Choose Sides

Coming Home

Tokyo Sunrise

Basic Instruction

Divine Power

Finding You

Discernment
Review: I am very honored to be able to present to you my life story in these 8 songs !!! This is my debut album and I am thankful for the gifts that God gives me to be able to express my thoughts and actions to you !!! I love you





…

Read more
Items 1 to 3 of 3 on page 1 of 1