Items 1 to 3 of 3 on page 1 of 1
Cat: FPR 036. Rel: 08 Oct 12
Techno
Track 1

Track 2

Track 3

Track 4
Cat: FPR 038. Rel: 08 Jul 13
Techno
Track 1

Track 2

Track 3

Track 4
Review: The third in a series of anonymous Black Boxx EPs has been released on Scott Ferguson's Ferrispark with this issue delivering a various ensemble of house sounds. "Track 1" opens with reverberant warehouse beats that soften to the sound of chiming chords and breathy textures that are whisked into a windy circuitous rhythm by a fluttering bass synth. Loose claps and possible samples of a lazy session drummers loop create a lucid and bodily groove in "Track 2", as delayed piano keys and a sustaining lead softly ebb and flow, while a filtered acid lead takes over in "Track 3". Grooves are smooth travelling in "Track 4" with the main component of the woozy sequence a filter that drops in and out of a looping deepness. Deep and sample heavy house catered for the dancefloor.
…

Read more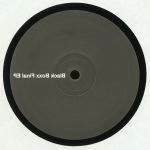 Cat: FPR 040. Rel: 16 Oct 17
Deep House
Track 1 (6:25)

Track 2 (6:29)

Track 3 (6:11)

Track 4 (6:49)
Review: Scott Ferguson's highly collectable and mysterious concept was a seriously hot ticket with total anonymity running through the early releases. This ensured the full focus was on the vibes, grooves and dancefloor. Now, three years after the second EP 3, he gives the project one final hoorah with a signature range of physical late night styles. Ranging from smoky, slo-mo hypnotically plodding soul of "Track One" to all-out acid frazzles of "Track Three", it's a fittingly broad and on-point way to end a great concept series.
…

Read more
Items 1 to 3 of 3 on page 1 of 1