Items 1 to 2 of 2 on page 1 of 1
Cat: FTR 002. Rel: 22 Feb 17
Broken Beat/Nu Jazz
Fade To Grey (Jonny Miller Blitz Musik vocal mix) (7:33)

Fade To Grey (Jonny Miller Blitz Musik instrumental mix) (7:32)
Review: Londoner Jonny Miller runs Sonarpilot Audio and over the years has worked with everyone from Metalheadz and Radium Audio, through to Greg Wilson, Redlight, Seiji and even film director Chris Cunningham. Here he presents edits of the 1980 pop classic "Fade To Grey" by Visage. He had his work cut out for him but he delivers some interesting takes on this old school gem. As Bordello A Parigi best described themselves it is "a proto-houser of sorts and as relevant and influential a track today as it was back then." These remixes use the original stems with the "Jonny Miller Blitz Musik vocal mix" giving the track more of a balearic vibe that you could have imagined Alfredo playing to a crowd of sunburnt brits at Amnesia back in the day. While on the flip, there's a handy instrumental for those of you less keen on the vocals for some reason.
…

Read more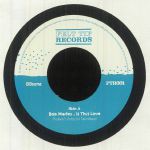 Cat: FTR 001. Rel: 05 Sep 14
Broken Beat/Nu Jazz
Bob Marley - "Is This Love" (Redmo acoustic takedown)

Redmo - "Sadi Soul"
Review: Sam Redmore has quietly been doing his thing in hometown Birmingham for some time, crafting soul-soaked re-edits, bootleg remixes and mash-ups that tend towards the tasteful end of the spectrum. Having previously built up a solid fan base via his own Bandcamp page, he's finally made it onto wax. The two cuts featured here are amongst his best. The A-side revision of Bob Marley's "Is This Love" is particularly potent. It strips out the drums, thus emphasizing the genuine sweetness of Marley's original. Flip for "Sadi Soul", an upbeat, headnodding rework of a vibraphone and double bass-laced jazz-funk jam with added hip-hop swing.
…

Read more
Played by:
Local Zero
,
Craig Charles Funk And Soul
,
Boy Oliver
,
Discomendments
,
Count Skylarkin
,
Alex Zuiev
,
Paul Thornton (Dig Deep / Reboot)
,
DJ Psycut
,
Hubbz
,
Juno Recommends Brokenbeat/Nu Jazz
,
Phil Horneman (Wicked Jazz Sounds)
,
Marc Hype
,
Martin Brew
,
Super Mango Hi-Fi
,
I Love 45's!
,
Reggae Mash Ups Tha Dance !
,
NuNorthern Soul
…

Read more
Items 1 to 2 of 2 on page 1 of 1