Items 1 to 1 of 1 on page 1 of 1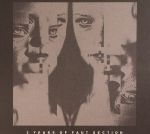 VARIOUS
Cat: FAUTCD 01. Rel: 28 Apr 17
Techno
Corvum - "Anamnesis"

Osse - "Daemonum"

A Thousand Details - "They Sow Scorn You Get Hate"

Apart - "Pointless"

Kwartz - "Her Green Eyes"

Reeko - "Redimensionado"

Von Grall - "Current Time"

V I L - "Replica"

Relapso - "Cardio"

Jonas Kopp - "BTI"

Christian Wunsch - "Lone Wolf"

Pfirter - "Die Glocke"

Tensal - "Apocalip"

Birth Of Frequency - "The Garden"

Stefan Vincent - "Blue Orgyn"

Zadig - "Solar Wind"

Arnauld Le Texier - "Hipulse"

Kessell - "Neektar"

Lewis Fautzi - "Citonpyh"

Kike Pravda - "Impulse"

Abstract Division - "Twilight Escape"

Alex Randal - "Convergence"

Christinne - "Utopian"

Oscar Mulero - "Reduction & Synthesis" (Lewis Fautzi remix)

Deepbass - "From Beyond"

Sejon - "Dreamers"

Svarog - "Other Land"
Review: Faut Section founder Lewis Fautzi knows how to put together an epic collection of tracks. Like its 2015 predecessor, Two Years of Faut Section, this third volume in the Portuguese techno label's compilation series runs to an epic three discs in length. Although largely true to Fautzi's vision for the label - in his words "hypnotic techno at its most pure and raw" - you'll still find a number of dark ambient and glistening IDM cuts amongst the uncompromising, 6AM stompers, picturesque dub techno workouts, throbbing box jams and acid-driven dancefloor psychedelia. It's also true that the quality threshold remains high throughout, suggesting that more than a few DJs will invest in its no-holds-barred charms.
…

Read more
Items 1 to 1 of 1 on page 1 of 1