Labels
Items 1 to 2 of 2 on page 1 of 1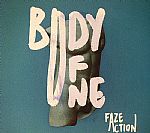 Cat: FAR 022CD. Rel: 05 May 14
Disco/Nu-Disco
Prisoner Of Your Love

Stuck

Echoes Of Your Mind

Body Of One

Time By Your Side

Magic Touch

Freak For Your Love

Caruso's Monkey House

Floating World
Review: Brothers Simon and Robin Lee have long excelled at the album format, delivering occasional sets that ripple with impressive musicality, sinewy strings, cozy downtempo moods and upbeat dancefloor moments. Body of One, their fourth full length (their first dropped on Nuphonic back in 1997), continues this trend, offering a compelling trip through the pair's myriad influences. After opening with a sweaty post-punk thumper ("Prisoner of Your Love"), we're variously treated to Italo-influenced vintage house ("Magic Touch"), rubbery disco-funk ("Freak For Your Love"), Arthur Russell-influenced tropical downtempo pop ("Caruso's Monkey House"), dreamy Balearica ("Floating World") and string-laden gorgeousness. As for the title track, it sounds like So-era Peter Gabriel.
…

Read more
Cat: FAR 033. Rel: 26 Mar 18
Balearic/Downtempo
Midnight Safari

In The Air

Reach Backless

Windchimes

Solar Plex
Review: Rudy returns to Faze Action Records with an all-new collection of atmospheric and evocative tropical sounds. Last August saw the release of the By Nature EP that encapsulated the steamy and exotic textures of the Balearic sound.
This time, Midnight Safari takes up where on the beaches of Formentera, where the last EP left us. This time setting sail on a Midnight Safari with Marimba's and chugging rhythms underpinning sophisticated Piano' melodies. Following this we drop anchor and appreciate the evening breeze of In The Air with its haunting 'Cello, endless drifting arpeggio's and tropical percussion with a hint of North Africa. Reach Backless points the way squarely to the dance floor with chunky drums and synth bass, synth hooks galore and that piano solo that launches into starry evening skies. It's back down to earth with the settled quiet bass guitar harmonics of Windchimes before heading into the more soulful and synth melodic territory of Solar Plex.


…

Read more
Items 1 to 2 of 2 on page 1 of 1